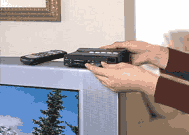 LAS VEGAS, NV, Jan. 9, 2003 -- SanDisk Corporation (NASDAQ: SNDK) today introduced the SanDisk Digital Photo Viewer (DPV) that provides a simple, fast and convenient way to view photos taken with a digital camera on a television screen. Digital photographers can now instantly view and share their digital images with family and friends. The announcement was made at the Consumer Electronics Show (CES) where SanDisk is demonstrating products (Central Hall, Booth #7949).
The SanDisk DPV allows consumers to remove the storage card directly from their digital camera, plug it into the photo viewer and instantly view images on their TV. It has media slots that accept all the popular digital camera storage cards including CompactFlash®, SmartMedia™, MultiMediaCard, SD and MemoryStick®. The unit is slightly smaller than a VHS cassette and easily attaches to most TV sets or projectors. It includes a remote control to view multiple pictures in preview mode, delete, rotate and zoom. It also provides the setup for a customized slide show of digital images stored on the card.
" SanDisks Digital Photo Viewer expands the number of options available to consumers to view and share the images captured with their digital camera," said Nelson Chan, SanDisks senior vice president and general manager, retail business unit. "While digital photos are easy to view on a PC or laptop computer, many more households worldwide have a TV set than a PC or an Internet connection. The SanDisk DPV in the family room TV environment is friendlier and allows group interaction that makes sharing digital images with friends and family such an enjoyable experience. We have made the SanDisk Digital Photo Viewer as easy to use as possible to broaden its appeal. We believe that products such as SanDisks Digital Photo Viewer are important in accelerating the global mass market adoption of digital cameras."
Chan added, "There are a lot of households that want a digital camera and now, with the SanDisk Digital Photo Viewer, they can quickly view images on a TV, delete the unwanted ones and zoom in on certain pictures, which makes owning a digital camera even more compelling. SanDisk believes that the widespread availability of products such as the Digital Photo Viewer may in time drive consumers to view flash cards as the ideal archiving media for their family slide shows. "
According to Lyra Researchs Digital Photography Advisory Service, the demand for digital cameras continues to increase globally. The world wide general use digital camera market, estimated at 22 million in 2002, is expected to grow to 52 million in 2006.
"Digital cameras were a hot seller this holiday season and the point and shoot segment continues to grow rapidly," said Ed Lee, senior analyst at Lyra Research. "As digital cameras become a mass market item, the importance of having an easy, non-technical solution for consumers to view their images on something other than a computer screen will be increasingly important. SanDisks strategy of reaching out to these consumers is sound and certainly expands their market opportunity."
The viewer supports JPEG files, which are the most common form of file format used by digital cameras, at resolutions up to 6 megapixels. For easy use, the viewer can display multiple languages (English, French, Spanish, German, Italian, Chinese and Japanese) and can switch between NTSC and PAL formats. It includes a two-year warranty.
The SanDisk Digital Photo Viewer will have a suggested retail price of $79. It will be available in mid-February in many of the 50,000 retail stores worldwide that carry SanDisk branded products.
SanDisk, the worlds largest supplier of flash data storage products, designs, manufactures and markets industry-standard, solid-state data, digital imaging and audio storage products using its patented, high density flash memory and controller technology. SanDisk is based in Sunnyvale, CA.
The matters discussed in this news release contain forward looking statements that are subject to certain risks and uncertainties as described under the caption, "Factors That May Affect Future Results" in the companys annual report on Form 10-K-A and quarterly reports on Form 10-Q, filed with the Securities and Exchange Commission. The companies assume no obligation to update the information in this release.
SanDisks web site/home page address: www.sandisk.com
All trade names are either registered trademarks or trademarks of their respective holders.