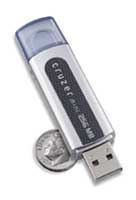 SUNNYVALE, CA, JULY 15, 2003 - SanDisk Corporation (NASDAQ:SNDK) today introduced Cruzer™ Mini, an embedded USB 2.0 hi-speed "key chain" flash drive about the size of a lipstick case. Cruzer Mini is one of the world's smallest flash memory drives and uses the latest USB interface technology to achieve the maximum data transfer rates possible today.

Cruzer Mini already has started shipping to major retailers in the United States and Canada and SanDisk also expects to ship the product in August to many of its 50,000 retail outlets around the world. The portable storage devices initially are being sold in two capacities - 128 and 256 megabytes (MB) - with suggested retail pricing of $49.99 and $79.99. SanDisk plans to introduce higher capacity Cruzer Minis later this year.

USB flash drives are replacing floppy disks partly because of the limited capacity of floppies. A 256MB Cruzer Mini, for example, offers storage capacity equivalent to as many as 177 floppy disks.

Eric Bone, a SanDisk retail product marketing manager, said, "As USB flash drives become more commonplace in the market, industrial design will help differentiate the products. The sleek, customizable design of Cruzer Mini extends the family look of our original Cruzer USB flash drive and ImageMate™ reader product lines. Cruzer Mini can be slipped into a pocket or purse or worn around the neck for easy transport of personal computer data files, image files or video and audio between homes, offices, schools and other locations where one would like to take their personal files and information. Cruzer Mini ships with three decorative end-caps that fit over a unique "light-pipe" status indicator and the USB connector allowing owners to individualize their Cruzer Mini."

Bone added, "We have also introduced Cruzer Mini with very attractive pricing because the USB drive market has grown rapidly and many people who already own a lower capacity flash drive now need a larger capacity storage device. We are trying to address the sweet spot of the market with these two capacities, and we think that this pricing will drive customers to higher capacity flash drives."

Market researchers at NPDTechworld recently reported that U.S. retail sales of USB flash drives were 171,000 units in May, 2003. The units had a retail value of $11 million. Retail unit sales in the U.S. have been growing at more than 20 percent a month this year, according to the firm.

Cruzer Mini's low profile (2.6 inches long, .79 inches wide, .48 inches deep) does not block most other USB ports when plugged in allowing customers to use those ports without any additional cabling. When the device is properly inserted, a large LED lights up. It also ships with a lanyard so the device can be worn around the neck. Cruzer Mini is "plug and play" with PCs and the Macintosh due to USB Mass Storage Class (MSC) compliance when used with Windows ME, Windows 2000, Windows XP, Mac OS 9.2.1+ and Mac OS 10.1.2+. A driver can be downloaded for Windows 98SE support.

SanDisk, the world's largest supplier of flash data storage card products, designs, manufactures and markets industry-standard, solid-state data, digital imaging and audio storage products using its patented, high density flash memory and controller technology. SanDisk is based in Sunnyvale, CA.

The matters discussed in this news release contain forward looking statements that are subject to certain risks and uncertainties as described under the caption, "Factors That May Affect Future Results" in the company's annual report on Form 10-K and quarterly reports on Form 10-Q, filed with the Securities and Exchange Commission. SanDisk cannot guarantee that it will succeed to manufacture competitively the Cruzer Mini or that its sales of Cruzer Mini will contribute materially to SanDisk's revenues or profits. The companies assume no obligation to update the information in this release.
---
CONTACT:

Bob Goligoski
(408) 542 - 0463
bgoligoski@sandisk.com