SUNNYVALE, CA, October 15, 2003 -- SanDisk Corporation (NASDAQ:SNDK), the world's largest supplier of flash storage card products, today announced results for the third quarter ended September 28, 2003. Total third quarter revenues grew 99% to $281.4 million compared to the third quarter of 2002 and increased 20% sequentially. Third quarter net income was $50.6 million compared to $11.3 million and $41.3 million for the third quarter of 2002 and the second quarter of 2003, respectively. Earnings per share grew 275% for the third quarter of 2003 and were $0.60 per diluted share compared with $0.16 per diluted share in the same quarter of 2002. Earnings per diluted share grew 15% sequentially and reflect a tax rate of 35% compared to $0.52 per diluted share with a tax rate of 9% in the second quarter of 2003.
"The third quarter was an outstanding operational quarter for SanDisk," said Eli Harari, President and CEO of SanDisk Corporation. "Bookings during the quarter were exceptionally strong for both our OEM and retail customers. We exceeded our expectations for third quarter product revenues and total megabytes shipped due to excellent execution in operations and the successful conversion to .13 micron technology. Product gross margins improved to 35% from 32% in the prior quarter due to the benign pricing environment, as well as higher margin contribution from the increasing sales of Secure Digital cards. For the first time we sold more than 10 million total cards during the quarter. In the fourth quarter, we expect to increase our flash shipments from new capacity coming on stream primarily from our FlashVision joint venture. We are also projecting seasonally strong demand for our products and a continuing benign pricing environment."
Q3 Financial Highlights
· Product revenues were a record $259.4 million, a growth rate of 96% year-over-year and 21% sequentially.
· License and royalty revenues were $22 million, a growth rate of 142% year-over-year and 7% sequentially.
· Total megabytes sold were a record and grew in excess of 250% year-over-year and 27% sequentially.
· Average price per megabyte sold declined 3.4% sequentially and 45% year-over-year.
· Total gross margin was 40% of total revenues and product gross margin was 35%.
· Late in the third quarter, we sold 35 million UMC shares that generated net proceeds of approximately $30 million, $17 million of which is included in our quarter-end cash holdings and $13 million in other current assets. This sale triggered a pre-tax profit of $7 million, a tax provision on the gain, plus a non-cash reversal of a prior year tax related benefit of approximately $9 million. Tax provided on the UMC sale, together with an increase in the third quarter of our estimate for fiscal 2003 pre-tax income, combined to raise our effective tax rate for the quarter to 35%, up from the approximately 15% we projected at the beginning of the quarter.
· Net cash provided by operating activities was approximately $65 million. SanDisk's cash and short-term investment position increased to $629 million and does not reflect any proceeds from the recently concluded equity offering
· In connection with the underwritten public offering priced during the third quarter at $65.25 per share, approximately 8.3 million shares of common stock were issued, yielding net proceeds of approximately $522 million. These proceeds, as well as the new 8.3 million shares, will be included in our fourth quarter results.
Q3 Business Highlights
· SanDisk began shipping the fastest flash memory cards in the world with the introduction of SanDisk Ultra II and SanDisk Extreme lines of CompactFlash and SD Flash Memory Cards.
· Unit sales were a record and reflected strength across product lines, channels and geographies.
· SanDisk introduced the Memory Stick Duo and Memory Stick PRO Duo flash memory cards. These are physically much smaller Memory Stick formatted cards and are targeted at the new generation of 2.5G and 3.0G cellular phones that require removable high storage capacity for features such as digital cameras, video capture and playback, audio players, games and messaging.
· SanDisk launched Cruzer Mini USB 2.0 "key-chain" flash drives in the third quarter and gained significant momentum in this high-growth market.
· Michael Marks, president and chief executive officer of Flextronics, joined SanDisk's board of directors.
Business Outlook
We are optimistic about our business prospects in the fourth quarter of the year. We continue to expand our capacity and are maximizing our flash memory supply from both captive and non-captive sources. Following the trend of the previous two years, we expect that our fourth quarter will be seasonally strong in retail, and that our primary challenge will be to meet consumer demand for our products. Our 2003 total revenue is forecasted to exceed $1.0 billion, up from our September projection of $950 million. License and royalty revenues are projected to be approximately $24 million. Product gross margin is expected to be in the range of 32-36%, reflecting a continuing benign pricing environment, lower product costs from our captive .13 micron flash memory and higher flash memory costs from our non-captive sources. Operating expenses are forecasted to increase by approximately 13-15%. The effective tax rate is projected to be 20-22%. An increase in interest income is anticipated due to the proceeds from our underwritten public offering and our share count will increase by approximately 8.3 million shares. Additional share count changes will largely be a function of the average quarterly stock price.
Separate Announcement
SanDisk separately announced today that it was advised late yesterday by its Taiwanese law firm, Lee and Li, one of the largest law firms in Asia, that one of Lee and Li's attorneys had fraudulently sold, and misappropriated the proceeds from shares of SanDisk's United Microelectronics Corporation stock held by Lee and Li on behalf of SanDisk pursuant to a power of attorney. The third quarter financial results included in this press release do not account for this theft. The amount of loss, if any, is not determinable at this time. Any amount that is not fully repaid may result in non-operating accounting charges in the periods corresponding to the dates of the fraudulent sales.

Forward-Looking Statements
This news release contains certain forward-looking statements, including our business outlook, expectations for new product introductions, capacity, future product revenues, average selling prices, gross margins, operating margins and tax rates, that are based on our current expectations and involve numerous risks and uncertainties that may cause these forward-looking statements to be inaccurate and may significantly and adversely affect our business, financial condition and results of operations. Risks that may cause these forward-looking statements to be inaccurate include among others: fluctuations in operating results, yields and possible delays related to Toshiba's conversion to .13 micron technology, delays in qualification of new .13 micron product components, any interruption of supply from any of the semiconductor manufacturing facilities that supply products to us, particularly Toshiba's Yokkaichi facility, future average selling price erosion due to excess industry capacity, price increases from non-captive flash memory sources and third party subcontractors, current global economic and geo-political conditions, the timely development, internal qualification and customer acceptance of new products such as the new miniSD and Cruzer Mini, as well as new products that are based on the NAND and NAND/MLC .13 micron flash chips, fluctuations in royalty revenues, business interruption due to earthquakes or other natural disasters, particularly in areas in the Pacific Rim where we manufacture and assemble products, further impairment of our investments in Tower Semiconductor Ltd. and UMC due to any decline in stock valuations, losses related to the fraudulent sale of our UMC stock that may not be fully repaid and may result in accounting charges in the periods corresponding to the date of fraudulent sale, an increase in our fourth quarter tax rate if we recover and sell UMC shares in the fourth quarter, and the other risks detailed from time-to-time in our Securities and Exchange Commission filings and reports, including, but not limited to, the prospectus filed on September 25, 2003, the Form 10-Q for the quarter ended June 29, 2003 and the Annual Report on Form 10-K for the year ended December 29, 2002. Future results may differ materially from those previously reported. We assume no obligation to update the information contained in this release.
About SanDisk
SanDisk Corporation, the world's largest supplier of flash storage card products, designs, manufactures and markets industry-standard, solid-state data, digital imaging and audio storage products using its patented, high-density flash memory and controller technology. SanDisk is based in Sunnyvale, CA.
Conference Call
SanDisk's third quarter 2003 conference call is scheduled for 5:30 a.m. Pacific Time, Wednesday, October 15, 2003. The conference call is being webcast by CCBN and can be accessed live, and throughout the quarter, at SanDisk's website at www.sandisk.com/IR and at www.streetevents.com for registered streetevents.com users. To participate in the call via telephone, the dial in number is (800) 946-0713 or (719) 457-2642. The call will also be available by telephone replay after 8:30 a.m. Pacific Time on October 15, 2003 through Sunday, October 19, 2003, by dialing (888) 203-1112 or (719) 457-0820 and entering the pass code 599165. A copy of this press release will be filed with the Securities and Exchange Commission on a current report on Form 8-K and will be posted to our website.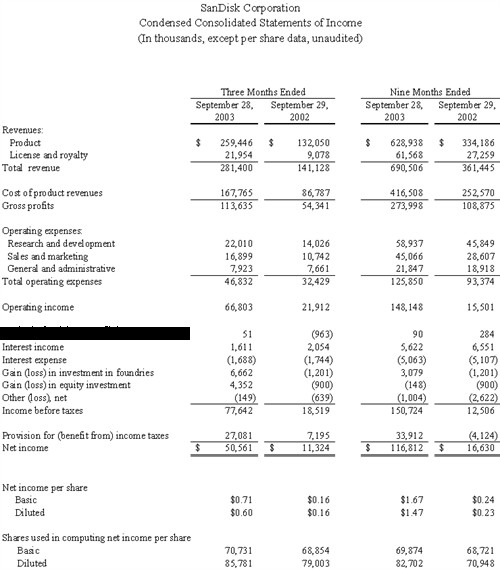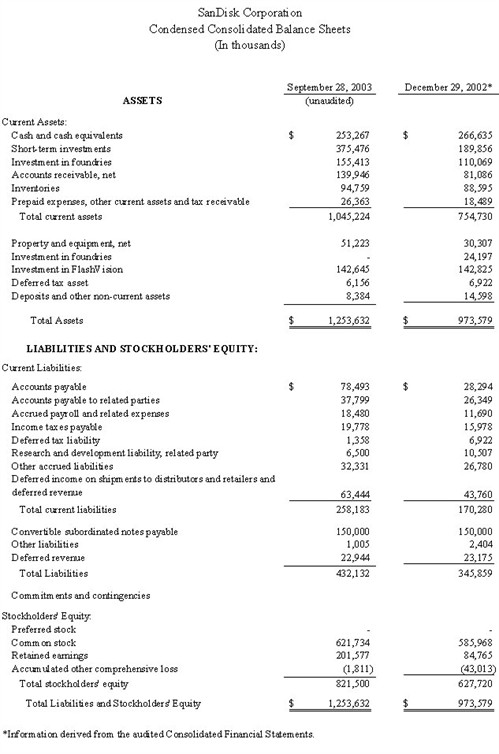 ---
SanDisk's web site/home page address:
www.sandisk.com
All trade names are either registered trademarks or trademarks of their respective holders
CONTACT: