Apr 7, 2004
Reliability, Durability Are Key Features of New Cruzer Micro and Cruzer Titanium
SHANGHAI, CHINA, April 7, 2004 - SanDisk Corporation (NASDAQ:SNDK) today announced that it will start selling its newest generation of Cruzer® portable USB flash storage drives--including the tiny Cruzer Micro and the extremely rugged Cruzer Titanium-in China, Taiwan and Hong Kong. As part of its product line, SanDisk also is introducing an MP3 music player that connects with the Cruzer Micro. The announcements were made at a SanDisk press conference in Shanghai, China.
As one of the world's smallest USB 2.0 high-speed flash memory storage drives, the Cruzer Micro is roughly the size of a half-stick of chewing gum and can be attached to a keychain. Its thin shape makes it easy to plug into a computer USB port without obstructing other USB connections.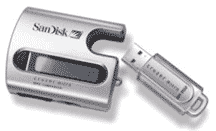 The Cruzer Micro comes in three capacities-128, 256 and 512 megabytes (MB). That's plenty of space to store large office documents, presentations, images, video files or homework from school. But when you slide the Cruzer Micro into the dock of its optional MP3 Companion, it becomes an instant music machine, delivering at least a minimum seven hours of songs on one standard AAA battery. Features include a backlit LCD screen to identify songs and a removable belt clip.
The top of the line in the SanDisk Cruzer family is Cruzer Titanium, which represents the ultimate in durability and transfer speed. This sleek and strongly-built high-speed portable USB flash storage device can endure harsh working environments and thereby protect the valuable data of business and power users. It is housed in a stylish yet rugged metal casing that has been shown to survive a force of up to 2,000 pounds, based on a SanDisk test environment validated by an independent laboratory.
Cruzer Titanium is one of the fastest USB-type 2.0 portable flash drives on the market, with a write speed rating of 13MB per second and a read speed of 15MB per second. It is available in a 512MB version, with higher capacities planned for future introduction. The device is 75.1mm long, 20.82mm wide and 8.75mm thick, and it can be worn around the neck, attached to a keychain or clipped to a pocket like an ink pen.
"This is the flagship product in our USB flash drive line," said Nelson Chan, senior vice-president and general manager of SanDisk's retail business unit. "We believe that it is the premier USB flash drive on the market today, and ideal for consumers who appreciate style with power. With SanDisk's reputation for excellence and reliability, we expect both the Cruzer Micro and the Cruzer Titanium to set a new standard for these devices in the China, Hong Kong and Taiwan markets."
Also shipping to stores in those areas are larger capacity versions of the highly popular Cruzer Mini USB flash drive. New options consist of 512MB and a 1-gigabyte (GB) models, which enable consumers to transport up to 30 hours of digitally compressed music, more than 5 hours of MPEG-4 compressed video or more than 1000 high-resolution digital images (depending on camera type).
All Cruzer flash storage drives are "plug and play" capable with PCs and Apple computers when used with Windows XP, Windows 2000, Windows ME, Mac OS 10.1.2+ and Mac OS9.2.1+. For Windows 98SE, users can install a driver that comes bundled with an included CD-ROM in some markets or can be downloaded from the Internet in other markets. The Cruzer Micro, Cruzer Titanium and Cruzer Mini will be shipped with CruzerLock software, a file encryption product that protects data so that others cannot access it if the device is lost or stolen.
Currently, SanDisk products can be found in more than 3,000 shops throughout China, Hong Kong and Taiwan, and that number is expected to nearly double by the end of the year. Suggested retail prices for the new Cruzer models are as follows:
Cruzer Micro: 128MB to 512MB, US$54.99 to $169.99

Cruzer Micro MP3 Companion: $79.99

Cruzer Titanium 512MB, $224.99.
SanDisk, the world's largest supplier of flash memory data storage card products, designs, manufactures and markets industry-standard, solid-state data, digital imaging and audio storage products using its patented, high-density flash memory and controller technology. SanDisk is based in Sunnyvale, California.
The matters discussed in this news release contain forward-looking statements that are subject to certain risks and uncertainties as described under the caption, "Factors That May Affect Future Results" in the company's annual report on Form 10-K and quarterly reports on Form 10-Q, filed with the Securities and Exchange Commission. The company cannot guarantee that it will succeed in selling its products in Asia. The company assumes no obligation to update the information in this release.
---
SanDisk's web site/home page address: www.sandisk.com

All trade names are either registered trademarks or trademarks of their respective holders.

Product images can be downloaded from www.sandisk.com/corporate/mediakit