Apr 9, 2004
High-Performance Cards Are Designed For Speed and Harsh Operating Conditions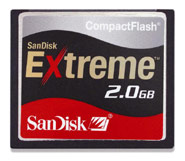 BEIJING, CHINA, April 9, 2004- SanDisk Corporation (NASDAQ: SNDK) today announced that it will sell its Extreme™ line of digital flash storage cards in China, Taiwan and Hong Kong, giving professional photographers and photo enthusiasts fast read and write speeds and dependable operation in punishing conditions. The announcement was made at a SanDisk press conference in Beijing.
Sold exclusively through photo retail specialty stores, the Extreme line of cards, which will begin shipping this quarter, are available in three formats: CompactFlash™, SD® and Memory Stick PRO®. The CF version will be shipped in capacities of 256 megabytes (MB), 512MB, 1 gigabyte (GB) and 2GB. Extreme SD cards will be available in 256MB and 512MB, and Extreme Memory Stick PRO will come in 256MB, 512MB and 1GB.
"The Extreme line has been well received by our target customers in North America, especially among professional photographers, and now we're preparing to duplicate that success in Asia," said Tanya Chuang, retail product marketing manager for SanDisk's high-performance cards. "The pros require exceptionally fast write and read speeds and reliable storage under a variety of conditions. They've found that Extreme cards meet or exceed their performance requirements," she added.

Initially, Extreme cards will be distributed to over 1,500 photo specialty stores in China, Taiwan and Hong Kong, with later shipments planned for other parts of Asia.
Whether recording pictures of spectator sports, outdoor activities or birds in flight, the rugged SanDisk Extreme cards are ideal choices for serious photographers who need more performance under harsh environmental conditions than they can get with standard cards. Extreme cards are lightning fast, delivering a sustained minimum write speed of 9MB per second and a sustained minimum read speed of 10MB/sec., making them the fastest flash memory storage cards at their specified wide temperature range.
Several major camera manufacturers have recently introduced advanced models with increased speeds that are best achieved from high-performance media such as Extreme cards. For example, Canon's new EOS-1D Mark II 8.5-megapixel camera functions with either CF or SD cards, and the new Nikon D70 interchangeable lens digital SLR camera has been able to shoot a rapid 3 frames per second with a SanDisk fast-writing 256MB CompactFlash card, according to a Nikon announcement made in January. Also, Sony's new DSC-F828 Cyber-Shot® Digital Camera, which is said to capture an eight-megapixel image in almost half the time required by a typical five-megapixel camera, features dual media compatibility with either Memory Stick PRO or CF cards.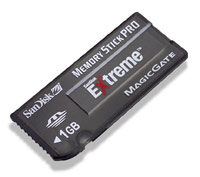 Extreme cards are tested to function at their specified high performance even under extremely low and high temperature conditions that are well outside the operating range of standard flash cards, from a low of -25 degrees Celsius, which is typical weather for polar bears, to a high of 85 degrees Celsius, which is hotter than any desert in the world.
Extreme cards have other features not found on SanDisk's conventional cards, including a data recovery software application that lets a user recover hidden, deleted and lost digital images, and a lifetime warranty instead of a five-year warranty.
Adventurers rely on Extreme cards to capture their exploits. Among them is David Lim of Singapore, who is a veteran of over 50 alpine climbs and was the leader of the landmark 1st Singapore Mt. Everest Expedition in 1998. "I used the SanDisk Extreme CF card (1GB) on my recent Mt. Kilimanjaro (Africa) climb," he said. "We climbed in unseasonably bad weather with sub-zero temperatures on summit day. But the card worked flawlessly with a high-end digital camera and allowed for speedy image review and fast picture-taking."
Suggested retail prices for Extreme cards are as follows:
CompactFlash: US$84.99 to $639.99 for 256MB to 2GB

Memory Stick PRO: $119.99 to $499.99 for 256MB to 1GB

SD: $109.99 to $219.99 for 256MB to 512MB
SanDisk, the world's largest supplier of flash memory data storage card products, designs, manufactures and markets industry-standard, solid-state data, digital imaging and audio storage products using its patented, high-density flash memory and controller technology. SanDisk is based in Sunnyvale, California.
The matters discussed in this news release contain forward-looking statements that are subject to certain risks and uncertainties as described under the caption, "Factors That May Affect Future Results" in the company's annual report on Form 10-K and quarterly reports on Form 10-Q, filed with the Securities and Exchange Commission. The company cannot guarantee that it will succeed in selling its products in Asia. The company assumes no obligation to update the information in this release.
---
SanDisk's web site/home page address: www.sandisk.com

All trade names are either registered trademarks or trademarks of their respective holders.

Product images can be downloaded from www.sandisk.com/corporate/mediakit