Apr 14, 2004
SanDisk Is First To Market With miniSD; Available At Retail Stores In May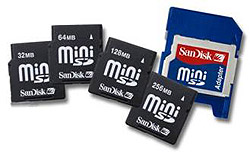 TAIPEI, Taiwan, April 14, 2004 - SanDisk Corporation (NASDAQ: SNDK), the world's largest supplier of flash memory storage card products, announced today that it will start to sell miniSDÔ memory cards through retail stores in Taiwan starting in May. SanDisk miniSD cards will be offered in capacities that range from 32 megabytes (MB) to 256MB.
SanDisk miniSD cards are used to store digital images, video, MP3 files and other data in camera phones and multimedia mobile phones. The announcement was made today in Taipei, where SanDisk and its retail distributor in Taiwan, Princeton Technology C&C Corporation (PTC), held a joint press conference.
Nelson Chan, senior vice president and general manager of SanDisk's retail business unit, said, "The number of mobile phones with miniSD slots is growing rapidly since removable storage is a key advantage for mobile phones that feature storage-intensive features such as digital cameras, MP3 players and games. We are working closely with our retail distributor, PTC, to ensure that Taiwanese consumers who use miniSD-based mobile phones and wish to have additional storage will be able to purchase SanDisk miniSD cards from their favorite retail outlets."
The new miniSD card format was introduced by SanDisk for sale to OEM customers in March 2003, and is being sold to consumers through retail outlets with a complementary adapter that converts the miniSD card into the SD card form factor. The adapter allows the miniSD card to fit into existing SD card slots, thereby providing compatibility with the growing number of SD compatible devices in the market.
The new retail miniSD cards will start at 32 megabytes (MB) capacity with higher capacities ranging up to 256MB to be introduced later this year. Suggested retail pricing for miniSD plus an SD adapter, at capacities ranging from 32MB to 256MB is US$44.99 to $94.99 respectively.
SanDisk, the world's largest supplier of flash data storage card products, designs, manufactures and markets industry-standard, solid-state data, digital imaging and audio storage products using its patented, high density flash memory and controller technology. SanDisk is based in Sunnyvale, CA.
The matters discussed in this news release contain forward looking statements that are subject to certain risks and uncertainties as described under the caption, "Factors That May Affect Future Results" in the company's annual report on Form 10-K and quarterly reports on Form 10-Q, filed with the Securities and Exchange Commission. The companies assume no obligation to update the information in this release.
---
SanDisk's web site/home page address: www.sandisk.com

All trade names are either registered trademarks or trademarks of their respective holders.

Product images can be downloaded from www.sandisk.com/about-sandisk/media-kit