May 24, 2004
Easy Solution To Transfer Images, Music and Data From Flash Memory Devices
Such as PDAs, Digital Cameras, Cell Phones and MP3 Players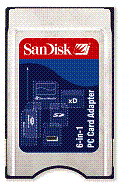 NEW YORK CITY, NY, MAY 24, 2004 - SanDisk Corporation (NASDAQ:SNDK) today introduced the world's first 6-in-1 PC Card Adapter, giving notebook computer users the largest number of card formats for moving files to and from flash memory devices such as digital cameras, PDAs, MP3 players and mobile phones. The announcement was made at the Digital Experience media conference in New York.
The new adapter offers easy, plug-and-play compatibility with no software needed, and works with six different memory card formats: SD, MultiMediaCard, Memory Stick, Memory Stick PRO, xD-Picture Card, and SmartMedia. To read a card, users simply insert it into the adapter, and then slide the adapter into any computer with a PC Card slot. In this mode, the adapter works like a removable hard drive.
"With the booming sales of portable devices that use flash memory cards, including the latest generation of mobile phones with camera and music functions, the 6-in-1 Adapter provides tremendous versatility for pre-loading flash memory cards from a PC, transferring images and data between card formats, or moving files and images from a card to a notebook computer," said Matthijs Hutten, product marketing manager for SanDisk. The 6-in-1 Adapter, he added, is particularly beneficial for users of multiple devices that require different flash memory card formats.
Protected by a rugged, stainless steel cover, the adapter replaces SanDisk's 4-in-1 Adapter but will sell at a comparable suggested retail price of $29.99. Units are planned for shipment to stores by early summer.
Worldwide notebook shipments grew by 27.4 percent last year and represent more than one-fourth of all PCs sold, according to IDC's Worldwide Quarterly PC Tracker. IDC, a market research company headquartered in Framingham, Massachusetts, predicts that unit sales, which were 39.5 million in 2003, will increase by 16 percent or higher each year for the next two years.
With this newest product, SanDisk continues to expand its family of adapters and readers. The company offers four single-slot readers, a CF PC Card Adapter, and a multi-card device called the ImageMate® 8-in-1 Card Reader/Writer, which connects to a computer's high-speed USB 2.0 port and reads eight formats including CompactFlash. Suggested retail prices in the line range from $9.99 to $34.99.
SanDisk, the world's largest supplier of flash memory data storage card products, designs, manufactures and markets industry-standard, solid-state data, digital imaging and audio storage products using its patented, high-density flash memory and controller technology. SanDisk is based in Sunnyvale, CA.
---
SanDisk's web site/home page address: www.sandisk.com

SanDisk and ImageMate are trademarks of SanDisk Corporation, registered in the U.S. and other countries.

SmartMedia and SD are trademarks of Toshiba Corporation. MultiMediaCard is a trademark of the MultiMediaCard Association. Memory Stick and Memory Stick PRO are trademarks of Sony Corporation. XD is a trademark of Fuji Foto Film. Other brand names are for identification purposes only and may be the trademarks of their respective holders.

Images can be downloaded from www.sandisk.com/corporate/media.asp
 
SanDisk Corporation
Mike Wong
408-548-0223
mwong@sandisk.com