SUNNYVALE, CA, July 14, 2004 - SanDisk Corporation (NASDAQ:SNDK), the world's largest supplier of flash storage card products, today announced results for the second quarter ended June 27, 2004. Second quarter total revenues increased 85% to $433 million compared to the second quarter of 2003 and increased 12% from the first quarter of 2004. Second quarter net income was $71 million, compared to $41 million and $64 million for the second quarter of 2003 and the first quarter of 2004, respectively. Earnings per share were $0.38 per diluted share compared with $0.26 per diluted share in the same quarter of 2003 and $0.34 per diluted share in the first quarter of 2004.
"Record results for our second quarter are a testimony to the success of SanDisk's strategy and unique business model, which combines vertical integration of leading edge technology, rapid introduction of differentiated products targeted at new applications, expanding worldwide retail distribution and a strong portfolio of patents to generate significant operating margins," said Eli Harari, President and CEO of SanDisk Corporation.
"The pricing moves that we initiated early in the second quarter stimulated consumer demand and resulted in 38% sequential quarterly growth in total megabytes and 24% sequential growth in average capacity per card sold in retail. Product gross margins improved to 35%, despite a 16% decline in average selling price per megabyte, because of a favorable mix of MLC and captive flash, and the positive impact of our product segmentation strategy; fully 25% of the retail revenue in the second quarter came from highly differentiated products. Late in the quarter we shipped first production cards employing our new 4Gbit NAND/MLC chip, and as planned we are starting to ramp 90 nanometer production in the third quarter," added Harari.
"I am particularly encouraged by the growing acceptance of flash cards and modules in dozens of new generation cell phones sporting mega pixel cameras, music players, video clips, video games and internet access, which we expect will be one of the major catalysts for strong growth in demand for our products in the next several years," said Harari.
Financial Results and Highlights
 
Product revenue was $454 million in the second quarter, up 16% year-over-year and 14% sequentially.
Product sales were $391 million, a growth of 16% sequentially and 83% year-over-year.
Total gross margin grew to 41% of revenues compared to 40% in the first quarter of 2004 and 38% in the second quarter of 2003.
Product gross margin increased to 35%, compared to 32% in both the first quarter of 2004 and in the second quarter of 2003.
Operating income was $110 million, a growth of 12% sequentially and 136% year-over-year.
Total megabytes sold in the second quarter were a record and increased 38% sequentially and 144% year-over-year.
Average price per megabyte sold in the second quarter declined 16% sequentially and 25% year-over-year.
Average density per card sold in retail increased sequentially to 236MB from 189MB.
Retail sales grew to 81% of product revenues and were particularly strong in North America and Europe.
Storefronts grew to approximately 80,000 with the rapid acceptance of our Shoot & StoreTM products into the food and drug channel and with expansion into China.
Mobile phone products, including miniSDTM, TransFlashTM, RS-MMCTM, and Memory Stick PRO DuoTM rolled out to retail customers in the worldwide mobile phone channel.
SanDisk ExtremeTM and SanDisk Ultra® II high performance cards took top awards in independent performance tests and were among our fastest growing product lines.
Sales of the Cruzer® line of USB Flashdrive products continued strong growth, and productivity software is now shipping with the Cruzer Titanium.
Judy Bruner joined SanDisk as Executive Vice President and CFO and Catherine Lego rejoined SanDisk's Board of Directors and Audit Committee.
 

Conference Call and Guidance

SanDisk's second quarter 2004 conference call with guidance is scheduled for 2:00 p.m. Pacific Time, Wednesday, July 14, 2004. Today's teleconference prepared remarks, including third quarter guidance, will be posted to www.corporate-ir.net/ireye/ir_site.zhtml?ticker=sndk&script=2100. The conference call will be web cast by CCBN and can be accessed live, and throughout the quarter, at SanDisk's website at investor.sandisk.com and at www.streetevents.com for registered streetevents.com users. To participate in the call via telephone, the dial in number is (800) 314-7867 or (719) 867-0640 for international callers. The call will also be available by telephone replay through Wednesday, July 21, 2004, by dialing (888) 203-1112 or, for international callers, (719) 457-0820 and entering the pass code 229067. A copy of this press release will be filed with the Securities and Exchange Commission on a current report on Form 8-K and will be posted to our website prior to the conference call.

 

 

Forward-Looking Statements

This news release contains certain forward-looking statements, including our business outlook, expectations for new product introductions, capacity plans, future revenues, average selling prices, gross margins, operating expenses, capital equipment expenditures and tax rates that are based on our current expectations and involve numerous risks and uncertainties that may cause these forward-looking statements to be inaccurate and may significantly and adversely affect our business, financial condition and results of operations. Risks that may cause these forward-looking statements to be inaccurate include among others: market demand for our products may grow more slowly than our expectations or a slower adoption rate for these products in new markets that we are targeting, fluctuations in operating results, unexpected yield variances and longer than expected low yields and other possible delays related to our conversion to 90 nanometer NAND flash technology, any interruption of or delay in supply from any of the semiconductor manufacturing facilities that supply products to us, our inability to make additional planned smaller geometry conversions in a timely manner, future average selling price erosion that may be more severe than our expectations due to possible excess industry capacity of flash memory either from existing suppliers or from new competitors, decreased demand, price increases from non-captive flash memory sources and third-party subcontractors, higher than expected operating expenses due to unanticipated hiring and marketing expenses, higher than anticipated capital expenditures due to unexpected outlays for test equipment and FlashVision, adverse global economic and geo-political conditions, including adverse currency exchange rates, the timely development, internal qualification and customer acceptance of new products that are based on the 90-nanometer NAND technology, fluctuations in license and royalty revenues, higher than anticipated tax rates, business interruption due to earthquakes or other natural disasters, particularly in areas in the Pacific Rim where we manufacture and assemble products, further impairment of our investments in Tower Semiconductor Ltd. due to any decline in stock valuations, and the other risks detailed from time-to-time in our Securities and Exchange Commission filings and reports, including, but not limited to, the Form 10-K for the year ended December 28, 2003 and our quarterly reports on Form 10-Q. Future results may differ materially from those previously reported. We do not intend to update the information contained in this release. 

 

About SanDisk


SanDisk Corporation, the world's largest supplier of flash storage card products, designs, manufactures and markets industry-standard, solid-state data, digital imaging and audio storage products using its patented, high-density flash memory and controller technology. SanDisk is based in Sunnyvale, CA.

 

SanDisk, Cruzer and SanDisk Ultra are trademarks of SanDisk Corporation, registered in the United States and other countries. SanDisk Extreme, Shoot & Store and TransFlash are trademarks of SanDisk Corporation. Memory Stick PRO Duo is a trademark of Sony Corporation. RS-MMC is a trademark of the MultiMediaCard Association. SanDisk Corporation is an authorized licensee of the miniSD trademark. Other brand names mentioned herein are for identification purposes only and may be the trademarks of their respective holders.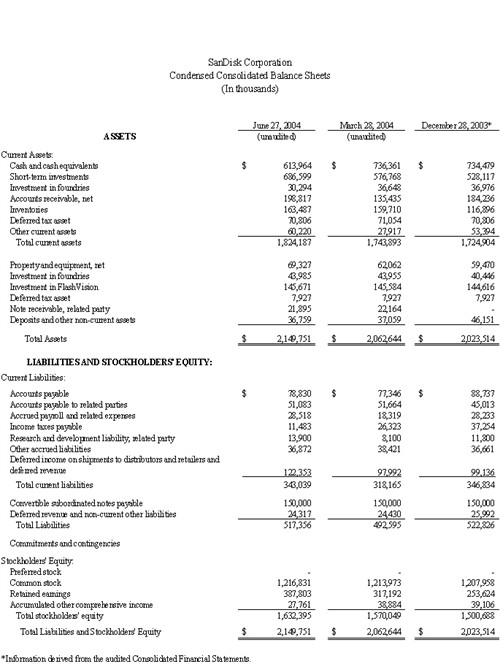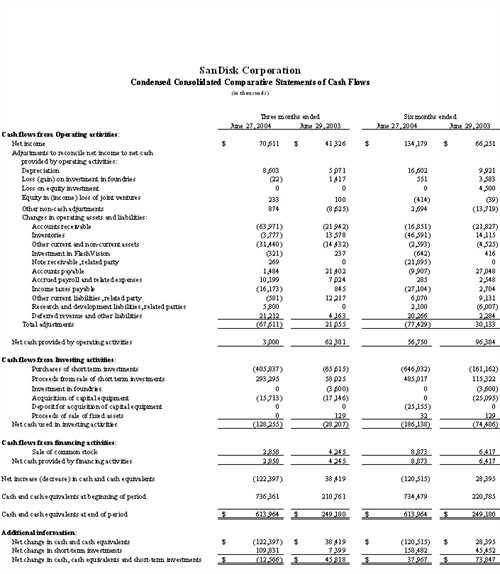 ---
Investor Contact:
Lori Barker Padon
SanDisk Corporation
(408) 542-0585
 
Media Contact:
Mike Wong
SanDisk Corporation
(408) 548-0223