Sep 7, 2004
Line of Affordable Cards Will Be Sold in Latin America's Largest Market for Digital Cameras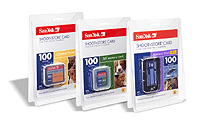 Mexico City, Mexico, Sept. 7, 2004 - SanDisk® Corporation (NASDAQ:SNDK) today announced that it will sell its Shoot & Store™ line of affordable flash memory cards in Mexico to meet expanding consumer demand in Latin America's largest market for digital cameras. The announcement was made during a series of press briefings in Mexico City.
The cards, offered in capacities of 50 photos (32-megabyte) and 100 photos (64-megabyte)*, are aimed at consumers who are transitioning from film-based cameras to digital photography or who want the simplicity of storing their images indefinitely without downloading to a computer or saving to a CD-ROM or DVD. The Shoot & Store line consists of the most popular flash card formats - SD™, CompactFlash® and Memory Stick PRO™.
SanDisk will introduce the cards this fall in a variety of retail outlets, including super centers, grocery stores, drug stores and photo supply stores. Suggested retail prices, including IVA taxes, are 240 pesos (approximately US $21) for the 50-photo card and 300 pesos (approximately US $25.50) for the 100-photo card. The cards will be distributed in Mexico by two companies, IMALDI and C & D Comercial.
"Shoot & Store flash card capacities are ideal for new owners of digital cameras," said Daniel O'Donnell, president of Grupo O'Donnell International, SanDisk's sales representative for Latin America. "Digital camera resolutions are generally low and many people still do not own computers, so they can easily store their pictures on the cards and take the cards directly to photo processors."
Latin America is the fastest growing region in the world for digital cameras, according to IDC, an international market research firm. "Last year, the market grew 145 percent, with more than 1 million new digital still cameras shipped," said Jay Gumbiner, program manager for consumer and commercial devices with IDC Latin America in Miami, Florida. "Buoyed by a new technology with aggressive price points as well as by an economic recovery in much of the region compared to 2002, many vendors have begun to invest more heavily in the market," he said. "And consumers are beginning to see the benefits of digital photography."
Mexico is by far the largest digital camera market in Latin America, said Gumbiner, accounting for nearly four out of every 10 digital cameras shipped in the region in 2003.
Since last spring, Shoot & Store has been available in the United States, Canada and Australia, where the line is sold in supermarkets, drug stores and convenience stores. In the U.S. alone, Shoot & Store is now sold in more than 10,000 retail outlets.
Although the cards are re-writable and function just like standard flash cards, their low prices allow for people to begin viewing them as "consumable" cards -- much like consumers today view 35mm analog film -- for use in archiving digital pictures on the cards themselves. Users can delete unwanted images, use the cards as permanent "digital negatives," e-mail images to friends and family, and purchase new cards when they need them. They can also leave their cards with photo finishers and order prints in the same way they've been doing with film. Digital images on Shoot & Store cards will not deteriorate over time and are expected to last indefinitely as long as the cards are kept in a dry place at room temperature.
To make it easier for consumers to determine the number of images they might get with a Shoot & Store card, the packages are labeled as having 50 photos (32MB) or 100 photos (64MB) capacities, which are based on a resolution setting of 1 megapixel. At 2 megapixels, a 32-megabyte card would yield about 34 photos. Actual picture counts are approximate and will vary depending on the camera model and resolution setting.

SanDisk, the world's largest supplier of flash memory data storage card products, designs, manufactures and markets industry-standard, solid-state data, digital imaging and audio storage products using its patented, high-density flash memory and controller technology. SanDisk is based in Sunnyvale, California.
---
* Based on resolution setting of 1 megapixel. Actual number of photos may vary depending upon camera model, resolution and compression.
SanDisk's web site/home page address: www.sandisk.com
Product images can be downloaded from www.sandisk.com/Corporate/MediaKit/.
SanDisk, the SanDisk logo and CompactFlash are trademarks of SanDisk Corporation, registered in the United States and other countries. Shoot & Store is a trademark of SanDisk Corporation. Memory Stick PRO is a trademark of Sony Corporation. SanDisk Corporation is an authorized licensee of the SD trademark. All other brand names and trademarks may be the trademarks of their respective holder (s).
 
Bob Goligoski
(408) 542 - 0463
bgoligoski@sandisk.com