Nov 9, 2004
Growth Potential Seen For Embedded Systems and Automotive Telematics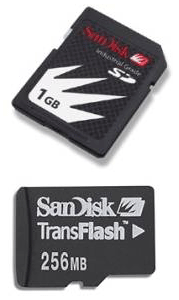 Munich, Germany, November 9, 2004 - Responding to an increasing demand for durable flash memory in automotive telematics, military and medical applications, SanDisk® Corporation (NASDAQ: SNDK) today announced larger capacities and extended operating temperature ranges for its line of industrial-grade SD™ flash memory cards and tiny TransFlash™ modules. The announcement was made at Electronica 2004, where SanDisk is exhibiting in Hall A4, Stand 243 of the New Munich Trade Fair Center.
SanDisk introduced a 1-gigabyte (GB) industrial SD card and a 256-megabyte (MB) industrial TransFlash module, providing twice as much memory as their previous highest capacities. Also, the company is offering high reliability with an improved temperature range of -40 to +85 Celsius (-40 to +185 degrees Fahrenheit) for both form factors. The new SD and TransFlash models are expected to ship worldwide starting in January. Pricing is being determined and will vary from region to region.
Norm Frentz, SanDisk's OEM marketing manager for industrial products, said the emerging technology of automotive telematics - the merger of wireless communications, vehicle monitoring systems, location devices and "infotainment" services -- is prompting the need for higher density solid state memory solutions that can store large amounts of data and code and withstand greater temperature extremes and vibration.
Phil Magney, president and chief analyst of Telematics Research Group, Inc., of Minnetonka, Minnesota, said that flash memory plays a major role in telematics, audio and navigation systems. "We live in a connected world, and we want to extend that to our vehicle. And when it comes to digital entertainment, the key is transportability," he said. Magney also sees a need for transportable storage media that can be used for various applications including entertainment, navigation, address books or vehicle diagnostics. Also, several models of new cars are equipped with flash drives within the vehicles multifunction "headunit" - the central control for audio navigation and telematics.
Flash memory offers a storage solution that is rapidly becoming as economical as a hard drive, with the added benefit of no moving parts, said Frentz. "For OEM manufacturers, using an SD card or TransFlash module provides cost/benefit savings, dependable performance, a smaller form factor and simpler integration," he said. SanDisk's industrial SD card has seen service in commercial and military aircraft and in medical instruments. It is also found in handheld computing and data collection devices such as those used by car rental companies and package delivery services.
With advanced 90 nanometer memory technology, the industrial grade SD card offers sequential read and write speeds of up to 20MB per second* on high capacities. It has advanced controller technology, a sophisticated defect and error management system, a powerful error correction code, an MTBF (Mean Time Between Failures) of 2 million hours, extreme endurance, and a seven-year warranty. The SanDisk industrial grade SD card comes in capacities ranging from 32MB to 1GB.
TransFlash, designed initially by SanDisk for mobile phones, is the world's smallest semi-removable mass storage memory module, measuring just 11mm by 15mm and 1mm thick - about the size of a fingernail, making it the ideal solution to replace other embedded components. With an SD adapter, it is compatible with all SD form factors.
The new industrial version offers OEM designers several major benefits. Among them: Saving costs by allowing for the minimum amount of embedded internal flash memory (and upgrading easily when needed), occupying less space than any flash card in applications where board size is limited, and providing simpler pin connections.
SanDisk, the world's largest supplier of flash memory data storage card products, designs, manufactures and markets industry-standard, solid-state data, digital imaging and audio storage products using its patented, high density flash memory and controller technology. SanDisk is based in Sunnyvale, CA.
 
---
* Based on HD Bench software testing and average sustained data rates for large sequential file transfers.
SanDisk's web site/home page address: www.sandisk.com
SanDisk's product and executive images can be downloaded from www.sandisk.com/Corporate/MediaKit/


SanDisk and the SanDisk logo are trademarks of SanDisk Corporation, registered in the United States and other countries. TransFlash is a trademark of SanDisk Corporation. SanDisk is an authorized licensee of the SD trademark. Other brand names mentioned herein are for identification purposes only and may be the trademarks of their respective holder (s).
Corporate US
Bob Goligoski
(408) 542-0463
bgoligoski@sandisk.com
Press Contact Europe
Peggy de Lange
sandisk@solidground.nl
+31 (0)23 533 40 99