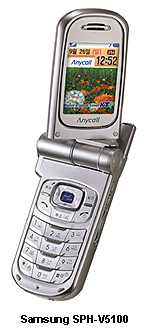 Las Vegas, NV, January 6, 2005 - SanDisk® Corporation (NASDAQ:SNDK) today announced that SanDisk TransFlash™, a fingernail-sized flash storage module, will provide expanded memory for a half-dozen full-featured mobile phones that are being introduced in Asia by major manufacturers Samsung Mobile, Motorola and Amoi Mobile. The announcement was made at a press conference during the annual Consumer Electronics Show where the company is demonstrating products in the Las Vegas Convention Center, South Hall, Booth #31438.
Since phone makers are incorporating more multi-media features into their products - such as higher-resolution digital still cameras, video camcorders, television and MP3 music - many of the newest phones are being designed with slots for flash storage cards to meet the growing memory demands. As the smallest of these form factors, TransFlash allows manufacturers to provide removable memory that is compatible with any SD™ card-enabled device, through an adapter. TransFlash capacities range from 32 megabytes (MB) to 256MB.

"With this kind of support from leaders in the mobile phone industry, TransFlash has reached an important milestone," said Rex Sabio, OEM product marketing manager for mobile. "In less than a year, this module has achieved broad-base acceptance as a semi-removable storage standard for feature phones." Sabio said that other companies have TransFlash-enabled phones in various development stages, with product releases planned for later in 2005.
Samsung's SPH-V5100 handset, which recently shipped to retailers in Korea, is a flip-type handset that has a 2-megapixel digital still camera with 2X optical zoom and auto focus. It also incorporates an MP3 player that can be switched on easily without opening a folder. Users can connect the phone to a television set and watch still images and MPEG 4 video clips, and they can also use the phone as a universal flash storage device to save files and other data via a USB cable. The handset is sold bundled with a 32MB TransFlash module.
Motorola is introducing the MS 400, another TransFlash-enabled phone, in the Korean market. This mini-slide phone has a camcorder function, MP3 player, organizer function, auto-answering, voice memo, speaker phone, e-book function and the ability to connect to a personal computer via a standard USB data cable. The TransFlash module is sold as an optional accessory.
Amoi Mobile, a subsidiary of Amoi Electronics Co., Ltd. - one of China's largest consumer electronics manufacturers - plans to release four handsets with TransFlash slots, worldwide during 2005. Depending on the model, functions can include a 1.3-megapixel rotational camera, MPEG 4 video camera, MP3 player, USB storage with PC cable, e-mail capability, data storage software and Bluetooth. Among unique features, the DV6 has a pop-up LCD screen, the WMA9507 supports video telephony, and the G6301 has a hidden Qwerty form factor. The DV6 and the G6301 are EDGE phones while the 3G phones of WMA9507 and CMA8301
are both dual modes, the first combining UMTS (WCDMA) plus GSM/GPRS and the second combining CDMA2000 1X/ EV-DO plus GSM/GPRS.
SanDisk is the original inventor of flash storage cards and is the world's largest supplier of flash data storage card products, using its patented, high-density flash memory and controller technology. SanDisk is headquartered in Sunnyvale, CA and has operations worldwide, with more than half its sales outside the U.S
 
---
SanDisk's product images can be downloaded from www.sandisk.com/Corporate/MediaKit/
SanDisk's web site/home page address: www.sandisk.com
SanDisk and the SanDisk logo are trademarks of SanDisk Corporation, registered in the United States and other countries. TransFlash is a trademark of SanDisk Corporation. SanDisk is an authorized licensee of the SD trademark. Other brand names mentioned herein are for identification purposes only and may be the trademarks of their respective holder (s).


Press Contact:
Bob Goligoski
bgoligoski@sandisk.com
+1 408-542-0463