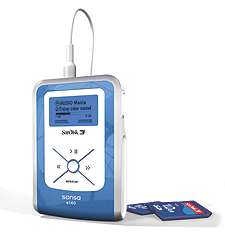 Las Vegas, NV, January. 6, 2005 - SanDisk® Corporation (NASDAQ:SNDK) today introduced the SanDisk Sansa™ e100 series of small, highly portable digital music players that use embedded flash memory to store many hours of digital music. For an enjoyable music-listening experience, the new music players feature high-fidelity sound, a sophisticated yet easy-to-use song navigation and sorting system and a unique design that continues SanDisk's tradition of distinctive styling. The announcement was made at a SanDisk press conference at the annual Consumer Electronics Show where SanDisk is demonstrating products in the Las Vegas Convention Center, South Hall, Booth #31438.
Initially available in 512-megabyte (MB) and 1-gigabyte (GB) capacities, the SanDisk Sansa players can store hundreds of songs and play up to 15 continuous hours on a single AAA battery. The new players feature an SD card slot to conveniently add more storage capacity, which can be significant since SanDisk and other companies have recently announced SD cards up to 2GB in capacity.
The new players are designed to work seamlessly with a wide range of popular music formats such as MP3 and Windows Media Audio (WMA) in both unprotected and protected files (such as those WMA files purchased from music service provider sites).
"Our goal is to provide listeners with a deeply satisfying music-listening experience," said Eric Bone, director of retail product marketing at SanDisk. "To do this, we designed the SanDisk Sansa line with many advanced features that include an easy-to-navigate interface, enhanced sound quality, and the ability to expand storage capacity. We also understand the personal fashion statement that these players make so we carefully crafted our industrial design with the individual listener in mind."
The SanDisk Sansa music players include stereo headphones, carrying case with armband, USB 2.0 cable, AAA Battery and Install CD with value-added software. For added flexibility, they can be used as a USB storage device. Furthermore, the new industrial design was created with future accessory options in mind.
Additional features include:
· SD card slot for additional storage and convenient music transfer
· Hi-Speed USB 2.0 for fast music transfer speeds
· Support for MP3, WMA (both protected/DRM and unprotected)
· Up to 15 hours of continuous use with a single AAA battery
· Digital FM radio with 20-presets
· Multi-line Indigo Backlit LCD that displays album, artist and song title information
| | | | | |
| --- | --- | --- | --- | --- |
| Model | Playback time* | No. of songs** | Playback time * | No. of songs** |
| Sansa e130 (512MB) | 8 hours, MP3 | 120 | 16 hours, WMA | 240 |
| Sansa e140 (1GB) | 16 hours, MP3 | 240 | 32 hours, WMA | 480 |
The SanDisk Sansa music players are expected to be available in March 2005 with suggested retail prices of $149 and $199 for the 512MB and 1GB models. They will be sold at many of the 93,000 stores worldwide where SanDisk sells its products.
The digital music players are "plug and play" with PCs due to USB Mass Storage Class (MSC) compliance when used with Windows® XP, Windows 2000, Windows ME.
SanDisk is the original inventor of flash storage cards and is the world's largest supplier of flash data storage card products using its patented, high-density flash memory and controller technology. SanDisk is headquartered in Sunnyvale, CA and has operations worldwide, with more than half its sales outside the U.S.
 
---
* Approximate playback at 128kbps MP3, 64kbps WMA
** Approximate
SanDisk's product images can be downloaded from www.sandisk.com/Corporate/MediaKit/
SanDisk's web site/home page address: www.sandisk.com
SanDisk and the SanDisk logo are trademarks of SanDisk Corporation, registered in the U.S. and other countries. Sansa is a trademark of SanDisk Corporation. Windows and Windows Media are either registered trademarks or trademarks of Microsoft Corporation in the United States and/or other countries. Mac and Macintosh are registered trademarks of Apple Computer, Inc. Other brand names mentioned herein are for identification purposes only and may be trademarks of their respective holder(s).

Press Contact:
Mike Wong
mwong@sandisk.com
+1 408-548-0223