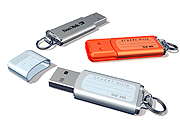 Las Vegas, NV, January 6, 2005 - They are tiny repositories of photos, files and music, but now the popular SanDisk® Cruzer® Micro USB flash memory drives are about to become personal fashion statements as well. Starting with spring shipments, the portable drives will be packaged with interchangeable colored skins and caps, providing panache, flair and a sense of energy for people on the go. SanDisk Corporation (NASDAQ:SNDK) made the announcement at a press conference during the annual Consumer Electronics Show where the company is demonstrating products in the Las Vegas Convention Center, South Hall, Booth #31438.

Also announced were new, higher capacities for SanDisk's entire line of flash drives. The popular SanDisk Cruzer Mini will now be available in 2 and 4 gigabyte (GB) models and the SanDisk Cruzer Micro will have 1GB and 2GB models. Also, the award-winning Cruzer Titanium, which has a titanium-coated shell and is designed to withstand harsh working environments and operating conditions, will be offered in a 1GB capacity.
"Consumers are demanding higher capacities for a diversity of storage uses that include high-resolution digital photos, digital music tracks, video clips, graphical presentations and other data that require large amounts of memory," said Eric Bone, director of product marketing at SanDisk. "These new capacities will meet those needs."
The rubberized "skins," aimed at more fashion-conscious buyers, will be released initially in clear and two colors, and will be sold with SanDisk Cruzer Micros in capacities of 256 megabytes, 512MB, and the new 1GB and 2GB models. The two-piece covers can be slipped on and off easily and do not interfere with the USB drive connections to personal computers or its functions. They will also work with the SanDisk Cruzer MP3 Companion, an optional digital music player that has a docking port for the Micro.
"These skins bring a new level of vibrancy and fun to our USB line," said Mike Morganstern, retail product marketing manager for SanDisk's USB flash drives. "With the enclosed lanyard, users will be able to wear them around their necks and color-coordinate them with their clothing. Or, they can attach them to their keys with the enclosed key-chain ring. Skins give people a means of personalizing their drives."
Apart from their new "outfits," the Cruzer Micros come preloaded with valuable portable software programs. These include CruzerLock™ 2, a data file encryption program; CruzerSync™, which synchronizes with Outlook data; and Cruzer PocketCache™, which allows for file backups with minimal memory consumption. The last two are offered as trial versions on Cruzer Micros and Cruzer Minis, and full versions on Cruzer Titanium.

The new Cruzer Micros with skins, which will be available starting in February, will also have new packaging. Suggested retail prices range from $29.99 for the 128MB unit to $99.99 for the 1GB unit. For the other flash drives, suggested retail prices of the new capacities are as follows: 2GB SanDisk Cruzer Mini, $199.99; 4GB SanDisk Cruzer Mini, $399.99; and 1GB SanDisk Cruzer Titanium, $169.99. Capacities offered for the SanDisk Cruzer Mini also include 128MB, 256MB, 512MB, and 1GB, and for the SanDisk Cruzer Titanium, 512MB.
SanDisk is the original inventor of flash storage cards and is the world's largest supplier of flash data storage card products, using its patented, high-density flash memory and controller technology. SanDisk is headquartered in Sunnyvale, CA and has operations worldwide, with more than half its sales outside the U.S.
---
SanDisk's product images can be downloaded from www.sandisk.com/Corporate/MediaKit/
SanDisk's web site/home page address: www.sandisk.com
SanDisk, the SanDisk logo and Cruzer are trademarks of SanDisk Corporation, registered in the United States and other countries. CruzerLock and CruzerSync are trademarks of SanDisk Corporation. PocketCache is a trademark of Kadena Systems. Other brand names mentioned herein are for identification purposes only and may be the trademarks of their respective holder (s).


Press Contact:
Bob Goligoski
bgoligoski@sandisk.com
+1 408-542-0463