Orlando, FL, Feb 19, 2005 - SanDisk® Corporation (NASDAQ: SNDK) today introduced a new 200-picture (128 megabyte)* CompactFlash® card in its Shoot & Store™ line of affordable digital memory cards. The announcement was made at the Photo Marketing Association (PMA) trade show in the Orange County Convention Center, where SanDisk is exhibiting in Booth 2408.
SanDisk also introduced a Shoot & Store version of the SanDisk Photo Album (SPA), which allows consumers to create and store slide shows and view them on most television sets. With a suggested price of $49.99, the SPA has slots for all major flash memory card formats, as well as a portable USB flash drive, and can also play MP3 music files through a home audio system or TV. At the trade show, SanDisk officials also said they will start offering a new plastic jewel storage case that can hold up to four CompactFlash cards or eight SD™ or xD-Picture Cards™.
SanDisk Shoot & Store cards are sold in more than 20,000 major drug stores, supermarkets, convenience stores and other retail outlets in the United States, Australia and various other countries. Prices range from $9.99 for a 32-megabyte (MB), 50-picture card to $19.99 for the new 200-picture, 128MB CompactFlash card. Cards also are available in 64MB, 100-picture versions at a suggested retail price of $14.99. Shoot & Store cards are sold in CompactFlash, SD, xD and Memory Stick™ formats.
The new jewel storage cases, which are identical in size to ones used for keeping CD-ROM disks and DVDs, will initially be sold with two 32MB, 50-picture cards, at a suggested retail price of $19.99. The cases contain a soft plastic sleeve insert with slots for the cards, as well as a sticker indexing system to label each card. The storage cases later will be available, without cards, at a retail price of under $5.
"With these new products in the Shoot & Store line, SanDisk is responding to consumer demands for both higher card capacities and a way to safely and conveniently store their new and filled cards," said Kent Perry, SanDisk retail product marketing manager for Shoot & Store.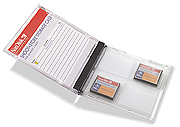 The new Shoot & Store products are scheduled to be available in stores in March.

SanDisk Shoot & Store cards enable owners of digital cameras to shoot pictures, delete the images they dont want and store their "keepers" on the cards themselves, without needing to download them to a personal computer. They can take the cards directly to professional photo processors and drop them off, like a traditional roll of film. When they pick up their prints, they get their cards back as well. They can also use the cards at self-service printing kiosks.
Consumers can still use SanDisk Shoot & Store cards just like any other digital flash memory card. They can download or delete images and re-use the cards, or they can save their pictures on the cards and store them for future use.
SanDisk is the original inventor of flash storage cards and is the worlds largest supplier of flash data storage card products, using its patented, high-density flash memory and controller technology. SanDisk is headquartered in Sunnyvale, CA and has operations worldwide, with more than half its sales outside the U.S.
---
* Picture counts are approximate, based on a camera resolution setting of one megapixel. Actual number may vary depending on camera model and compression. One megabyte = One million bytes.
SanDisk's images can be downloaded from www.sandisk.com/Corporate/MediaKit/
SanDisk's web site/home page address: www.sandisk.com
SanDisk, the SanDisk logo and CompactFlash are trademarks of SanDisk Corporation, registered in the U.S. and other countries. Shoot & Store is a trademark of SanDisk Corporation. SanDisk is an authorized licensee of the SD and xD trademarks. Memory Stick is a trademark of Sony Corporation. Other brand names mentioned herein are for identification purposes only and are trademarks of their respective holder(s).
Contact:
SanDisk Corporation
Bob Goligoski
(408) 542-0463
bgoligoski@sandisk.com