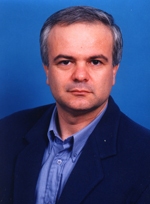 SUNNYVALE, CA, MAY 2, 2005 - SanDisk® Corporation (NASDAQ: SNDK) today announced the promotion of Simon Stolero to vice president of Israel operations. Stolero, who joined SanDisk in 1996 and established the Israel Design Center in Tefen Industrial Park, will report to Yoram Cedar, senior vice president of engineering and emerging market business development.
Stolero, whose appointment is effective immediately, will oversee a staff of 55 system architects and ASIC, firmware, software, hardware, characterization and compatibility engineers in Israel and the United States, and will also manage activities in SanDisks new Indian Design Center in Bangalore.
"Simon and his excellent team have spearheaded the introduction of the MultiMediaCard™, RS-MMC™ (Reduced-Size MultiMediaCard), SD™, miniSD™, TriFlash™ and TransFlash™ cards and modules," said Cedar. "In addition, his team has transitioned the products under their responsibility through all of our major technology transitions using our NOR and NAND technologies, as well as introducing Blue Label (standard), SanDisk Ultra® II, SanDisk Extreme™ III and industrial products.
"The most impressive achievement on Simons part is his capability of managing a remote design center under difficult conditions and keeping his people very highly motivated and committed to SanDisk," he added. The SanDisk facility is located in western Galilee in the northern tip of Israel, and is part of a technology zone that is sometimes compared to Californias Silicon Valley.
In his new position, Stolero is responsible for major product lines, including the companys best-selling SD flash storage cards and the new TransFlash module, as well as all security and design center managerial activities. During his tenure with SanDisk, Stoleros team helped launch the MultiMediaCard, which was co-invented with Siemens and Nokia for the mobile phone market. He also spearheaded the SD card, which is currently the most popular flash memory card in the world, with co-development partners Toshiba and Panasonic.
Before joining SanDisk, Stolero worked for Rafael, an Israeli company that specializes in defense technologies, where he oversaw a digital design department of more than 40 designers. Stolero graduated from the University of Ben-Gurion in Beer-Sheba, with a degree in electrical engineering.
SanDisk is the original inventor of flash storage cards and is the worlds largest supplier of flash data storage card products, using its patented, high-density flash memory and controller technology. SanDisk is headquartered in Sunnyvale, CA and has operations worldwide, with more than half of its sales outside the U.S.
---
SanDisks product and executive images can be downloaded from www.sandisk.com/Corporate/MediaKit/
SanDisks web site/home page address: www.sandisk.com
SanDisk, the SanDisk logo and SanDisk Ultra are trademarks of SanDisk Corporation, registered in the United States and other countries. SanDisk Extreme, TransFlash and TriFlash are trademarks of SanDisk Corporation. RS-MMC is a trademark of the MultiMediaCard Association. SanDisk Corporation is an authorized licensee of the SD, miniSD and MultiMediaCard trademarks.
Contact:
Bob Goligoski
SanDisk Corporation
(408) 542-0463
bgoligoski@sandisk.com