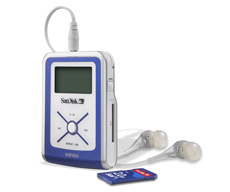 SUNNYVALE, CA, MAY 11, 2005 - SanDisk® Corporation (NASDAQ: SNDK) today announced the availability of its new SanDisk Sansa™ e100 series of small, portable digital music players at select national retailers. The new line of MP3 players use embedded flash memory to store many hours of digital music and includes an SD card slot for additional storage capacity. The Sansa e100 line features SRS WOW® technology, an audio enhancement solution for rich, immersive sound quality, and includes software for music management and content downloads, digital radio and audiobook services for wide range of listening options.
"In addition to providing high-quality sound, expandable storage capacity and a refreshing design, we want our listeners to have access to a broad range of listening content," said Eric Bone, director of retail product marketing at SanDisk. "To do this, we have partnered with several software companies that provide a broad range of music content, commercial-free radio streams and access to 'spoken word' content like books or magazines."
SRS WOW is a 3D audio enhancement technology that improves the quality of any audio file played on the players in the Sansa e100 line. Specially designed for portable audio devices, WOW improves the delivery of 3D stereo audio separation and the creation of deep, powerful bass for music played over the Sansa's high-quality, in-ear headphones.
The Sansa e100 line includes software from the following partners:
Rhapsody™ offers a simple way to enjoy digital music online with unlimited access to a vast library of more than 850,000 full-length songs and 65,000 albums. Rhapsody subscribers have the ability to easily purchase their favorite tunes for 79 cents per song, create their own commercial-free Internet radio stations, enjoy professionally programmed genre-specific stations, browse extensive music information and review editorial recommendations.
AudioFeast™ is the easiest way to keep your SanDisk Sansa player filled with today's best music, news, sports, and entertainment programs. The commercial-free digital radio service offers a blend of over 400 programs that is sure to quench anyone's audio appetite with over 100 channels dedicated to music alone. SanDisk Sansa customers get to try it for 60 days free of charge and then pay as low as $3.99 a month thereafter.
Audible® for digital audiobooks, radio programs, audio magazines and newspapers that can be easily downloaded. The service features more than 18,000 audio titles to choose from and is ideal for those times when listening to publications is more convenient than reading them.
Initially available in 512-megabyte (MB) and 1-gigabyte (GB)* capacities, the SanDisk Sansa players can store hundreds of songs and play up to 17 continuous hours on a single AAA battery. The new players feature an SD™ card slot to conveniently add more storage capacity, which can be significant since SanDisk and other companies have recently announced SD cards up to 2GB in capacity.
The new players are designed to work seamlessly with a wide range of popular music formats such as MP3 and Windows Media Audio (WMA) in both unprotected and protected files (such as those WMA files purchased from music service provider sites).
The SanDisk Sansa music players include improved stereo headphones, carrying case with armband, USB 2.0 cable, AAA Battery and Install CD with value-added software. For added flexibility, they can be used as a USB storage device. Furthermore, the new industrial design was created with future accessory options in mind.
Additional features include:
SD card slot for additional storage and convenient music transfer
Hi-Speed USB 2.0 for fast music transfer speeds
Support for MP3, WMA (both secure and unsecure) and Audible audio files
Up to 17 hours of continuous playback on a single AAA battery**
Digital FM radio with 20-presets
Multi-line backlit LCD that displays album, artist and song title information.
Model
Playback time***
No. of songs***
Playback time***
No. of songs***
Sansa e130 (512MB)
 
8 hours, MP3
120
16 hours, WMA
240
Sansa e140 (1GB)
 
16 hours, MP3
240
32 hours, WMA
480
The SanDisk e100 series is currently shipping with suggested retail prices of $139 and $189 for the 512MB and 1GB models respectively. They will be sold at many of the more than 100,000 stores worldwide where SanDisk sells its products.
SanDisk is the original inventor of flash storage cards and is the world's largest supplier of flash data storage card products, using its patented, high-density flash memory and controller technology. SanDisk is headquartered in Sunnyvale, CA and has operations worldwide, with more than half its sales outside the U.S.
---
Images of SanDisk products are available at www.sandisk.com/Corporate/MediaKit/
SanDisk and the SanDisk logo are trademarks of SanDisk Corporation, registered in the U.S. and other countries. Sansa is a trademark of SanDisk Corporation. Rhapsody is a trademark of Real Audio Corporation. WOW and SRS are trademarks of SRS Labs, Inc. AudioFeast is a trademark of AudioFeast. Audible is a registered trademark of Audible Inc. Other brand names mentioned herein are for identification purposes only and may be trademarks of their respective holder(s).
* MB = 1 million bytes; 1 GB = 1 billion bytes.
**128kbps MP3 with SRS WOW in off mode
*** Playback at 128kbps MP3, 64kbps WMA. Assumes four-minute songs.
Contact:
Mike Wong
SanDisk Corporation
(408) 548-0223
mwong@sandisk.com