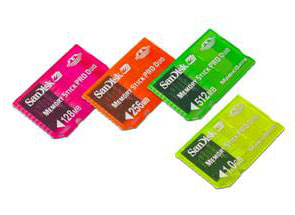 LEIPZIG, GERMANY, Aug. 16, 2005 - SanDisk® Corporation (NASDAQ:SNDK) today announced that retailers in Europe will begin receiving high-capacity SanDisk Memory Stick PRO Duo™ Gaming cards over the coming weeks in anticipation of the planned September 1 release of the Sony PSP™ (PlayStation® Portable). The announcement was made at GC 2005, the largest gaming show in Europe, where SanDisk is exhibiting at booth C31, Hall 5 in the Leipzig Fair Exhibition Center.
SanDisk Memory Stick PRO Duo Gaming cards, which have become popular in countries where the hand-held entertainment system has already been introduced, is made in capacities of up to 2 gigabytes* (GB). High-capacity memory cards are necessary to fully utilize the PSP's multitude of features, including the storage of video clips, digital music tracks, game data and digital still photos.
"Our cards will be available at major retailers in France, Germany, the United Kingdom, Italy, Spain, the Nordic countries and Eastern Europe," said Ed Moro, SanDisk's managing director of sales for Europe. Outlets will include game specialty, toy and consumer electronics stores, and shipments will be made this month and in September, he said.
European consumers who have waited for the PSP are being rewarded for their patience, because the latest models will incorporate Sony's recently-announced 2.0 firmware upgrade. This addition adds a Web browser, the ability to transfer digital still photos between PSPs through a wireless connection, support for more image formats (TIFF, BMP, GIF, PNG) and support for two additional music audio formats-WAV and AAC. Also, the new PSPs will allow video downloading in the MPEG4 AVC format, providing a platform for Web-based vendors to offer TV shows and other content.
"The PSP's new software features will increase the need for high-capacity Memory Stick PRO Duo cards to store this extra video content," said Christina Day, SanDisk's product marketing manager for gaming cards. SanDisk, which co-developed Memory Stick PRO™ media with Sony, offers the game card line in neon colors and in four capacities: 256 megabytes* (MB), 512MB, 1GB and 2GB. Suggested retail prices range from €35 to €233, excluding VAT.
Beyond the PSP, SanDisk is positioned to supply flash memory products for the next generation of gaming consoles. Earlier this year, Sony announced that its PlayStation 3, which is scheduled for release next year, will have three different memory card slots, including SD™ . Also, Nintendo® has said that its forthcoming console, the Revolution, will also support the SD format. SanDisk offers SD Gaming cards in three capacities, from 256MB to 1GB, at prices ranging from € 27 to € 79, excluding VAT.
"The videogame industry has begun to utilize removable flash memory, a trend that looks to continue with the proliferation of the PSP and 2006 launches of the PS3 and Revolution," said Schelley Olhava, program manager for IDC, a market research firm. "With the addition of multimedia functions and a wealth of new online content that can be downloaded and stored, we expect that consumer demand for more memory will increase."
As Europe's leading trade fair for interactive entertainment, GC 2005 will house more than 270 exhibitors, representing the major companies in the games industry. Last year, 105,000 people visited the show, and this year, based on advance ticket sales, organizers say they expect a substantial increase in attendance.
SanDisk is the original inventor of flash storage cards and is the world's largest supplier of flash data storage card products, using its patented, high-density flash memory and controller technology. SanDisk is headquartered in Sunnyvale, CA and has operations worldwide, with more than half its sales outside the U.S.
---
SanDisks product and executive images can be downloaded from www.sandisk.com/Corporate/MediaKit/
SanDisks web site/home page address: www.sandisk.com
SanDisk, the SanDisk logo, SanDisk Ultra and CompactFlash are trademarks of SanDisk Corporation, registered in the US and other countries. SanDisk is an authorized licensee of the SD trademark. Memory Stick PRO Duo and Memory Stick are trademarks of Sony Corporation. PlayStation and PSP are registered trademarks or trademarks of Sony Computer Entertainment Inc. (SCEI). Other brand names mentioned herein are for identification purposes only and may be trademarks of their respective holder(s).

* 1 gigabyte = 1 billion bytes. 1 megabyte = 1 million bytes.

This press release contains certain forward-looking statements, including expectations for new product introductions, applications, markets, and customers that are based on our current expectations and involve numerous risks and uncertainties that may cause these forward-looking statements to be inaccurate. Risks that may cause these forward-looking statements to be inaccurate include among others: market demand for products may grow more slowly than our expectations or there may be a slower adoption rate for these products in new markets that we are targeting and the other risks detailed from time-to-time in our Securities and Exchange Commission filings and reports, including, but not limited to, Form 10-K and our quarterly reports on Form 10-Q. We do not intend to update the information contained in this press release.
Contact:
Mike Wong
SanDisk Corporation
(408) 548-0223
mwong@sandisk.com