SUNNYVALE, CA, AUGUST 23, 2005 - SanDisk® Corporation (NASDAQ:SNDK) today introduced Cruzer® Freedom, a uniquely-designed USB flash drive that lets students carry secure and legal Internet downloads of textbooks, novels, study aids, learning tools and other copyrighted content.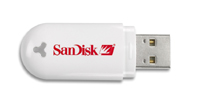 Powered by a proprietary SanDisk technology called FlashCP™ (Flash Content Processor), this latest addition to the Cruzer family of flash drives is a "digital backpack" that can store educational materials as well as any personal content such as MP3 files, digital pictures or computer data files. Addressing a market of more than 65 million American students, Cruzer Freedom will be available initially at U.S. Staples stores, starting in September. It will be offered at an introductory capacity of 256 megabytes (MB)* and will have a suggested retail price of $39.99, with a limited-time promotional discount at Staples.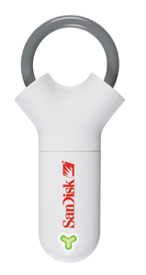 "We're excited to be launching Cruzer Freedom with our long-time partner -- Staples - which is one of the leading resellers of USB flash drives in the country" said Wes Brewer, SanDisk vice president of consumer products marketing. "We believe that Cruzer Freedom provides an attractive value proposition to younger consumers and their parents because of its unique functionality and styling. And for retailers, it steps outside of the commodity mindset and into the solutions mindset," he said. "We have high expectations for sales of this latest version of our Cruzer line because of the strength of our retail partnerships and because of its industry-leading product features".
The Cruzer Freedom's distinctive look and durable design are well-suited to the student lifestyle. Out of the box, the drive comes with two caps - one with a lanyard for wearing around the neck and the other with a key ring for securing to backpacks and key chains.
"Cruzer Freedom is an essential school supply for the digital generation," said Dan Harkabi, SanDisk's vice-president of secure content solutions. "Aside from storing their important personal files, students can now download books, learning tools and reference materials to their drive and use them on any PC, offline or online."
When a student plugs a Cruzer Freedom for the first time into a PC that is connected to the Internet, the device is initialized and can access the SanDisk Online Catalog. The student, with his or her parent's assistance, can then select content for downloading, and the content is secured to that specific drive. Digital books are interactive, so text can be highlighted, annotated and searched.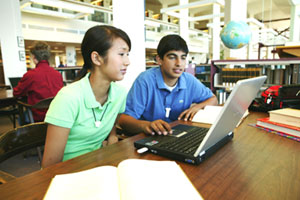 Many titles are offered for free. Among them are Merriam-Webster's ™ Pocket Dictionary, a choice of one SparkNotes ™ Study Guide, and classic literature ranging from Shakespeare to Mark Twain. Students may also download a free 30-day trial of Microsoft ® Student Graphing Calculator software, specialized Web content such as HOMEWORK HUB from Scholastic.com, and Web pages and learning modules created by educators. Content for sale includes textbooks and bestselling novels from leading publishers. New titles are being added to the online catalog on a regular basis.

Cruzer Freedom and FlashCP debuted in June at the National Educational Computing Conference (NECC) in Philadelphia, Pa., where it received strong interest from teachers and school administrators. "Students, parents and educators are already familiar with the value of USB flash drives in the school environment," said Sara Baber, director of Academic Technologies for the University of Houston. "By providing a simple and secure way to distribute many types of learning materials, SanDisk helps pull educational curriculum into the digital millennium."

Staples has seen substantial growth in sales of USB flash drives. "SanDisk's Cruzer Freedom, with its stylish design and content capability, is the perfect purchase for the student and should help make their studying a little easier," said Bruce Bressler, Staples' vice president of peripherals.

SanDisk is the original inventor of flash storage cards and is the world's largest supplier of flash data storage card products, using its patented, high-density flash memory and controller technology. SanDisk is headquartered in Sunnyvale, CA and has operations worldwide, with more than half its sales outside the U.S.
---
SanDisks product and executive images can be downloaded from www.sandisk.com/Corporate/MediaKit/
SanDisks web site/home page address: www.sandisk.com
SanDisk, the SanDisk logo, CompactFlash and SanDisk Ultra are trademarks of SanDisk Corporation, registered in the U.S. and other countries. FlashCP is a trademark of SanDisk Corporation. Other brand names mentioned herein are for identification purposes only and may be the trademarks of their respective holder (s).

**1 megabyte = 1 million bytes

This press release contains certain forward-looking statements, including expectations for new product introductions, applications, markets, and customers that are based on our current expectations and involve numerous risks and uncertainties that may cause these forward-looking statements to be inaccurate. Risks that may cause these forward-looking statements to be inaccurate include among others: market demand for products may grow more slowly than our expectations or there may be a slower adoption rate for these products in new markets that we are targeting and the other risks detailed from time-to-time in our Securities and Exchange Commission filings and reports, including, but not limited to, Form 10-K and our quarterly reports on Form 10-Q. We do not intend to update the information contained in this press release.

Contact:
Ken Castle
SanDisk Corporation
(408) 542 - 0463
kcastle@sandisk.com