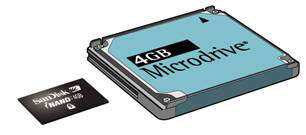 SAN FRANCISCO, CA, Sep. 27, 2005 - SanDisk® Corporation (NASDAQ:SNDK) today introduced SanDisk iNAND ™ , a small, easily integrated high-speed NAND flash storage device that is available in capacities and price points that make it an attractive alternative to micro hard drives. Embedded flash memory is a popular storage solution for consumer electronics products such as MP3 players, GPS devices, personal media players and mobile phones. The announcement was made at the CTIA Wireless I.T. and Entertainment 2005 trade show in San Francisco, where SanDisk is exhibiting products in booth #944.
"Embedded flash has quickly become a strong alternative to micro hard drives in consumer electronics products due to its decreasing cost-per-megabyte (MB) and increasing capacity points," said Jeff Ellerbruch, director of consumer OEM marketing at SanDisk. "In addition, solid-state flash memory has many other advantages over rotating mechanical hard drives that include high performance, much lower power consumption, increased durability (no track skipping) and significantly smaller size and weight. SanDisk iNAND also offers increased design flexibility since it is designed to work seamlessly in conjunction with a removable card slot. iNAND also incorporates for the first time SanDisk's new TrustedFlash ™ technology, assuring the same level of content security for embedded stored data that is available on TrustedFlash cards."
| | | |
| --- | --- | --- |
|   | 4GB iNAND | 4GB MicroDrive |
| Length in mm | 18 | 42.8 |
| Width in mm | 12 | 36.4 |
| Height in mm | 1.4 | 5 |
| Volume mm 3 | 302.4 | 7789.6 |
| Weight | 2 g | 16 g |
| Power |   |   |
|    write | 75 milliAmps | 305 milliAmps |
|    sleep/standby | 150 microAmps | 16 microAmps |
|   |   |   |
| Vibration (operating) | 7.5G, 0 to Peak | 1.0 G, 0 to Peak |
| Shock (operating) | 1,000 G max. | 200 G/2ms (half sine wave) |
|   |   |   |
| Ambient Temp. Operating | minus 25 to plus 85 C | 0 to 70 C |
Advanced Applications Require New Storage Solutions
One of the key applications for SanDisk iNAND is the increasingly popular, full-featured mobile phones that are being offered in the market today. These new phones offer many storage-intensive features such as high-resolution digital cameras, video capture and playback and MP3 players. These advanced features require a storage solution that combines high-speed performance and large capacities in a small package. Like all of SanDisk's family of card products, iNAND is a system-based solution for these applications that comes in a single, integrated package.

Along with the addition of storage-intensive features, the increased miniaturization of many host devices such as GPS devices, MP3 players and personal media players, make them ideal applications for embedded iNAND storage versus alternatives like micro hard drives.
Benefits From Integrating A Complete Storage Subsystem
SanDisk iNAND is a complete subsystem that combines a serial controller with high-speed NAND flash memory in a single device. The iNAND controller saves host system CPU and RAM buffering, ensures high reliability and provides a complete disk-like file management structure.
The iNAND controller also handles defect management and Error Correction Code (ECC) functions. For maximum design flexibility, iNAND has a consistent pinout/footprint across all capacity points. This optimizes manufacturing flexibility and allows for easy upgradeability since capacity options for the host device can be decided at the last stage of manufacturing and different product versions can be easily spun off from a basic design. In addition, no software architecture changes are needed to expand iNAND capacity and future flash technologies do not require firmware or software changes on the host system.
iNAND Leverages SanDisk's Latest 8-gigabit NAND/MLC Chip To Provide a Competitive Advantage
SanDisk iNAND incorporates the industry's most advanced multi-level cell (MLC) 8-gigabit (Gb) chip to achieve up to 4-gigabyte (GB) capacity in a single package. Since this advanced technology is integrated directly into the iNAND flash on board controller, OEMs can quickly benefit from MLC's lower cost per megabyte and increased performance without the need to devote the time and resources required to develop their own expertise.
Wes Brewer , vice president of product marketing, said, " Integrating SanDisk iNAND provides the fastest time to market for OEMs who wish to benefit from the advantages of low cost, high-density NAND/MLC and its highly attractive performance specifications . The added value of being able to specify iNAND with our new TrustedFlash content protection technology essentially eliminates the need for handset companies to certify their designs to be tamper-resistant as well as the liability that usually comes from designing-in that capability."
Fast Performance In a Small Package
SanDisk iNAND is optimized for mobile applications that require fast write and read speeds in a small package. The embedded storage device features 5-megabytes per second (MB/sec.) write and 9MB/sec. read speeds.
To achieve this level of fast performance and conserve space, SanDisk achieves a 4GB device by stacking four 8-Gb NAND/MLC flash memory chips and an integrated controller chip all in a single TFBGA (thin, fine-pitched ball grid array) package which measures 12 x 18 millimeters x 1.4 (mm) in size, or roughly 4 % of the volume occupied by a micro hard drive.
Standard Interface Speeds Integration
For fast, seamless design, iNAND features industry-accepted SD serial interfaces which are already present in most host devices and are supported by leading microprocessors. SanDisk iNAND is designed to run on the same bus as the SD card making it straight forward to design into new products while also allowing easy design of products that support both embedded storage and removable Flash card slots.
iNAND does not require flash host driver software, which eliminates backward/forward compatibility issues. As a solid state resident flash drive, iNAND co-exists with minimal use of NOR flash for boot block and XIP functionality.
TrustedFlash Enabled
TrustedFlash is a technology that allows premium content to be loaded securely and used on different portable devices. SanDisk's iNAND flash incorporates TrustedFlash technology for applications that require highly secure content protection, such as street maps in GPS or music in handsets. It is just one of a family of products that will be Trusted Flash enabled allowing the security function to be completely off-loaded from the host and performed exclusively by iNAND.
Pricing and Availability
SanDisk iNAND will be available in capacities ranging from 256MB to 4GB. Product samples are available now with production scheduled for the fourth quarter of 2005. Pricing for 2GB iNAND devices is $95 in 10,000-lot quantities.
| | | | |
| --- | --- | --- | --- |
| Part Number | Capacity | Package Size | Availability |
| SDINab-256 | 256MB | 12mm x 18mm x 1.2mm | October |
| SDINab-512 | 512MB | 12mm x 18mm x 1.2mm | January 2006 |
| SDINab-1024 | 1GB | 12mm x 18mm x 1.2mm | November |
| SDINab-2048 | 2GB | 12mm x 18mm x 1.4mm | October |
| SDINab-4096 | 4GB | 12mm x 18mm x 1.4mm | March 2006 |
SanDisk is the original inventor of flash storage cards and is the world's largest supplier of flash data storage card products using its patented, high-density flash memory and controller technology. SanDisk is headquartered in Sunnyvale, CA and has operations worldwide, with more than half its sales outside the U.S.
---
SanDisk's product and executive images can be downloaded from www.sandisk.com/Corporate/MediaKit/
SanDisk's web site/home page address: www.sandisk.com
SanDisk and the SanDisk logo are trademarks of SanDisk Corporation, registered in the U.S. and other countries. iNAND is a trademark of SanDisk Corporation. Other brand names mentioned herein are for identification purposes only and may be trademarks of their respective holder(s).
This press release contains certain forward-looking statements, including expectations for new product introductions, applications, markets, and customers that are based on our current expectations and involve numerous risks and uncertainties that may cause these forward-looking statements to be inaccurate. Risks that may cause these forward-looking statements to be inaccurate include among others: market demand for our products may grow more slowly than our expectations or there may be a slower adoption rate for these products in new markets that we are targeting, no security technology can be guaranteed to be 100% secure, and the other risks detailed from time-to-time in our Securities and Exchange Commission filings and reports, including, but not limited to, Form 10-K and our quarterly reports on Form 10-Q. We do not intend to update the information contained in this press release.

Contact:
SanDisk Corporation
Mike Wong
408-548-0223
mwong@sandisk.com