SUNNYVALE, CA, Oct.4, 2005 - SanDisk® Corporation (NASDAQ:SNDK) today introduced the SanDisk Sansa™ m200 series of MP3 music players that use embedded flash memory to store many hours of digital music. The new players support Microsoft® Windows Media® Player 10 and feature PlaysForSure support for portable music downloads and subscription services such as Rhapsody To Go® , Napster To Go™ and Yahoo! Music Unlimited.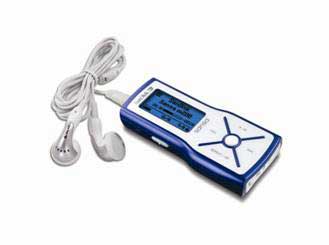 Music download and subscription services are an increasingly popular way for consumers to instantly and economically access millions of digital songs and either download and pay for each song individually or download an unlimited amount of music for a flat monthly subscription fee.
"It is SanDisk's guiding principle to always provide superior value to its customers," said Eric Bone, director of retail product marketing at SanDisk. "One of the ways we have done this with the Sansa m200 line is to feature support for music subscription services and capacities that include a 4-gigabyte (GB) model for $199.99, made possible with our new 70-nanometer NAND/MLC 8-gigabit chip. When you combine these key features with a compact yet robust industrial design and an easy-to-use interface, we believe the Sansa m200 line will be very compelling for anyone who appreciates music."
"SanDisk's new m200 series of flash-based players represent a major advancement for the portable music subscription model," said Robert Acker, vice president of music services for RealNetworks. "Using Rhapsody To
Go with these new players gives consumers the market's best music experience, combining superior playback performance with Rhapsody's extensive playlists, samplers and editorial recommendations."
The new players are designed to work seamlessly with a wide range of popular music formats such as MP3 and Windows Media Audio (WMA) in both unprotected and protected files (such as those WMA files purchased from music service providers and music download sites).
The Sansa m200 series is available in 512-megabyte (MB), 1-, 2- and 4GB capacities, which is the highest capacity currently available for flash-based players. The new m200 players can store hundreds of songs and play up to 19 continuous hours on a single AAA battery.
Included Features:
Microsoft PlaysForSure support to ensure proper playback of digital music
Up to 4GB of flash storage capacity
Digital FM radio with 20-presets
Voice recorder with built-in microphone
Hi-Speed USB 2.0 interface and cable for fast music transfers
Support for MP3, WMA (both protected/DRM and unprotected) and Audible audio file formats
Easy to read LCD that displays album, artist and song title information
| | | | | | |
| --- | --- | --- | --- | --- | --- |
| Model | Suggested Retail Price | Playback time | # of songs | Playback time | # of songs |
| Sansa m230 (512MB) | $79.99 | 8 hours, MP3 | 120 | 16 hours, WMA | 240 |
| Sansa m240 (1GB) 3 | $119.99 | 16 hours, MP3 | 240 | 32 hours, WMA | 480 |
| Sansa m250 (2GB) 3 | $159.99 | 32 hours, MP3 | 480 | 64 hours, WMA | 960 |
| Sansa m260 (4GB) 3 | $199.99 | 64 hours, MP3 | 960 | 128 hours, WMA | 1,920 |
The Sansa m200 series is available now in the United States and will be available in Europe by early November.
SanDisk is the original inventor of flash storage cards and is the world's largest supplier of flash data storage card products using its patented, high-density flash memory and controller technology. SanDisk is headquartered in Sunnyvale, CA and has operations worldwide, with more than half its sales outside the U.S.
---
SanDisk's product and executive images can be downloaded from
www.sandisk.com/Corporate/MediaKit/
SanDisk's web site/home page address:
www.sandisk.com

SanDisk and the SanDisk logo are trademarks of SanDisk Corporation, registered in the U.S. and other countries. Sansa is a trademark of SanDisk Corporation. RealNetworks and Rhapsody are registered trademarks of RealNetworks, Inc. Napster To Go is a registered trademark of Napster, Inc. Microsoft and Windows Media are registered trademarks of Microsoft Corporation. Other brand names mentioned herein are for identification purposes only and may be trademarks of their respective holder(s).
1- Approximate p layback at 128kbps MP3, 64kbps WMA
2 - Approximate figures at four minutes per song
3 - 1 gigabyte (GB) = 1 billion bytes.
This press release contains certain forward-looking statements, including expectations for new product introductions, applications, markets, and customers that are based on our current expectations and involve numerous risks and uncertainties that may cause these forward-looking statements to be inaccurate. Risks that may cause these forward-looking statements to be inaccurate include among others: market demand for our products may grow more slowly than our expectations or there may be a slower adoption rate for these products in new markets that we are targeting and the other risks detailed from time-to-time in our Securities and Exchange Commission filings and reports, including, but not limited to, Form 10-K and our quarterly reports on Form 10-Q. We do not intend to update the information contained in this press release.