Sep 2, 2006
Seven Companies Will Launch More Than 40 Products
 As Part of New SanDisk Made for Sansa Licensing Program

BERLIN, GERMANY, SEPT. 2, 2006 - Creating a comprehensive user experience for its Sansa ™ portable media players, SanDisk® Corporation today announced that seven companies will offer a variety of Sansa licensed accessories under a new Made for Sansa program.  These include speaker docks, travel cases, headphones, armbands, FM auto transmitters, chargers and cables.  The announcements were made at IFA, where SanDisk is demonstrating its products at Booth 103 in Hall 2.1 of Messe Berlin through Sept. 6.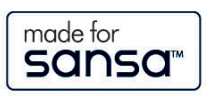 "We are pleased to welcome the first partners in our Sansa accessory program," said Eric Bone, SanDisk's director of consumer products marketing. "With each new addition to the line of licensed Sansa accessories, we are creating a more complete ecosystem for enhancing the user experience among the growing base of Sansa owners.  Now our users will have many options to enhance, customize and personalize their SanDisk players."
Companies represented in this initial group of accessory manufacturers are Altec Lansing, DLO (Digital Lifestyle Outfitters), Griffin Technology, HandStands, Macally Peripherals, Maximo Products and Speck Products.   Many items will be available in the fourth quarter of this year, in time for the holiday shopping season. 
Accessories offered under the "Made for Sansa" license program include:
Portable stereo speakers from Altec Lansing and Macally Peripherals.

Travel cases and armband holders from DLO, Griffin Technology, HandStands and Speck Products.

Wireless headphones from Macally Peripherals and wired earphones from Maximo Products.

FM transmitters for playback through automobile sound systems from DLO, Griffin Technology and Maximo Products.

USB cables, chargers, adapters and other peripherals from Griffin Technology, Macally Peripherals and Maximo Products.
     Demand for MP3 player accessories has grown dramatically in recent years.  A recent report from Mintel International Group, a market research company, said that MP3 accessories in the U.S. generated $50 million in sales during 2001 but reached $2 billion this year.  That figure represents more than one-third of the total U.S. market for stand-alone MP3 players (not including mobile phones), which some estimates place at $5.7 billion. 
     According to the Mintel report, people who own MP3 accessories said they spent an average of $90 on their last accessory purchase.
      "Portable MP3 players are increasingly mainstream devices - today, nearly one quarter of U.S. households report owning at least one," said Susan Kevorkian, an analyst with IDC. "Tailor-made portable player accessories can enhance the user experience by extending player utility beyond the pocket, promoting excellent audio playback quality, and enabling personalization based on specific fashion and lifestyle preferences."
      SanDisk is the original inventor of flash storage cards and is the world's largest supplier of flash data storage card products, using its patented, high-density flash memory and controller technology. SanDisk is headquartered in Milpitas, CA and has operations worldwide, with more than half its sales outside the U.S.
---
SanDisk's product and executive images can be downloaded from
SanDisk and the SanDisk logo are trademarks of SanDisk Corporation, registered in the United States and other countries.  Sansa and Made for Sansa are trademarks of SanDisk Corporation.  Other brand names mentioned herein are for identification purposes only and may be the trademarks of their respective holder (s).
This press release contains certain forward-looking statements, including expectations for new product introductions, applications, markets, and customers that are based on our current expectations and involve numerous risks and uncertainties that may cause these forward-looking statements to be inaccurate.  Risks that may cause these forward-looking statements to be inaccurate include among others: market demand for our products may grow more slowly than our expectations or there may be a slower adoption rate for these products in new markets that we are targeting, and the other risks detailed from time-to-time in our Securities and Exchange Commission filings and reports, including, but not limited to, Form 10-K and our quarterly reports on Form 10-Q.  We do not intend to update the information contained in this press release. 
Made for Sansa Licensee Media Contacts:
CONTACT: 
SanDisk Corporation
Carmella Lyman
Lyman Public Relations
707-256-3834
carm@lymanpr.com