Jan 8, 2007
Cruzer Contour Delivers Unique Design and Lightning-fast Performance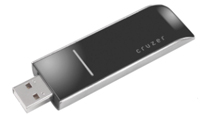 LAS VEGAS, NEVADA, Jan. 8, 2007
- SanDisk® Corporation (NASDAQ:SNDK) today introduced Cruzer® Contour™, a USB flash drive with the elegant look and feel of a fine fountain pen or wristwatch. The elegance extends inside Cruzer Contour, with state-of-the-art engineering, support for Windows® ReadyBoost™, and, a generous gallery of pre-installed U3™ software applications. Cruzer Contour was unveiled during a press conference at the Consumer Electronics Show, where SanDisk is demonstrating products in Booth #36206, South Hall 4 in the Las Vegas Convention Center.
What especially sets apart Cruzer Contour, with its glossy black top and silver metallic body, is the drive's unique sliding USB connector. Using your thumb to slide the top of Cruzer Contour back and forth brings out or hides the connector - there's no visible switch, and no cap to lose.
"This is a USB flash drive you'll want to take out of your pocket and show off to your friends,'' said Mike Morganstern, product marketing manager for Cruzer Contour. "SanDisk, the market leader in flash memory, is once again demonstrating that innovative technology doesn't have to come in a boring package. We've designed Cruzer Contour for consumers who want personal storage with more style, speed and capacity."
Cruzer Contour will be available in the United States in March in three models with suggested retail pricing of $89.99 for 2GB, $149.99 for 4GB and $239.99 for 8GB. The drive will be available in Europe, Asia Pacific and Australia in the second quarter of 2007. Cruzer Contour provides the greatest capacity yet for a SanDisk flash drive, offering as much as 8 GB¹ of storage. And Cruzer Contour delivers a write speed of 18 MB/sec2, double the performance of SanDisk's previous top-of-the-line model. Read speed for Cruzer Contour is two-thirds faster, at 25 MB/sec². This translates into significantly less waiting, whether loading data into the Cruzer Contour or copying data from the drive into a computer.
The sliding USB connector requires nothing more than two flicks of the thumb. Sliding the top back and then forward brings out the connector, while sliding the top forward and then back pulls in the connector. Although no bigger than previous SanDisk flash memory drives, Cruzer Contour has the weightiness and cool metallic feel associated with fine luxury goods.
"Flash drives are already widespread with an expected 114 million drives to ship this year³, and people want their flash drives to be an extension of their personality," said Joseph Unsworth, Principal Research Analyst for flash memory at the Gartner research firm. "Design and fashion sense are now a significant factor in selecting one flash drive over another. This is a familiar consumer pattern and is evident in the evolution of the mobile phone. As the handset market proliferated, consumers wanted products that appeal to them providing a means for manufacturers to differentiate themselves by targeting specific segments of users. We now see this trend migrating to USB flash drives as manufacturers enable a 'portable personality' for users."
Beyond its sleek design and cutting-edge engineering, Cruzer Contour offers numerous premium features. Among them:
Cruzer Contour includes U3 technology for running applications directly from the drive, without those applications having to be installed on the computer. U3-compatible software provided free with the drive are the PC phone service Skype™, the anti-virus program Avast, SanDisk's own CruzerSync™ for synchronizing files between a PC and the drive, the password manager SignupShield™, and HP PhotoSmart Essentials photo editor. For casual gaming, there are free copies of a Sudoku and a Mahjong game.

Cruzer Contour includes a voucher for 30 minutes of free outgoing calls to regular phones on Skype; and a voucher for 50 free songs from eMusic, the online music service. Buyers must activate an eMusic account for their 50 free selections, and can continue with an ongoing subscription - with a choice of monthly downloads - or cancel without further obligation.

Cruzer Contour supports Microsoft's Windows ReadyBoost feature, part of the upcoming Windows Vista operating system. ReadyBoost taps unused storage space on USB flash drives to speed up system performance, especially when several applications are running simultaneously. Contour is compatible with Windows 2000, Windows XP and the upcoming Windows Vista, all versions of Macintosh OS X, and with Linux as a mass storage class device. The drive is designed for computers with USB 2.0 ports, but is backwards compatible with USB 1.1 systems.
 
SanDisk is the original inventor of flash storage cards and is the world's largest supplier of flash data storage card products, using its patented, high-density flash memory and controller technology. SanDisk is headquartered in Milpitas, California, and has operations worldwide, with more than half of its sales outside the U.S. 
 
---
¹ 1 gigabyte (GB) = 1 billion bytes. 
² Based on SanDisk internal testing. 1 megabyte (MB) = 1 million bytes. 
³ According to "Dataquest Insight: USB Flash Drive Market Trends, Worldwide, 2001-2010," November 2006.
SanDisk's web site/home page address:
www.sandisk.com
SanDisk's product and executive images can be downloaded from
www.sandisk.com/corporate/mediakit/

SanDisk, the SanDisk logo and CruzerSync are trademarks of SanDisk Corporation, registered in the U.S. and other countries. Cruzer Contour is a trademark of SanDisk Corporation. U3 is a trademark of U3, LLC. Skype is a trademark of Skype Technologies, S.A. Signup Shield is a trademark of Protecteer, LLC. Other brand names mentioned herein are for identification purposes only and may be trademarks of their respective holder(s).

This press release contains certain forward-looking statements, including expectations for new product introductions, specifications, applications, markets, pricing, customer acceptance and customers that are based on our current expectations and involve numerous risks and uncertainties that may cause these forward-looking statements to be inaccurate. Risks that may cause these forward-looking statements to be inaccurate include among others: market demand for our products may grow more slowly than our expectations or there may be a slower adoption rate for these products in new markets that we are targeting, and the other risks detailed from time-to-time under the caption "Risk Factors" and elsewhere in our Securities and Exchange Commission filings and reports, including, but not limited to, Form 10-K and our quarterly reports on Form 10-Q. We do not intend to update the information contained in this press release. 
MEDIA CONTACT:
SanDisk Corporation
Ken Castle
(408) 801-2195
ken.castle@sandisk.com