Feb 12, 2007
As Consumers Use Their Phones as Their Music Player, Camera and
Video Recorder, High-Capacity Cards Are A Growing Requirement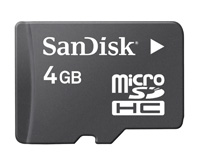 BARCELONA, SPAIN, Feb. 12, 2007 - SanDisk® Corporation (NASDAQ: SNDK) today introduced a 4-gigabyte (GB) microSD High Capacity (SDHC™) card -the largest capacity of the world's smallest removable flash memory card. A 4GB microSDHC™ card can store more than 1,000 digital songs or more than 2,000 high-resolution pictures or up to 8 hours of MPEG 4 video . SanDisk made the announcement at 3GSM World Congress 2007, where it is demonstrating products in Hall 7, booth 7C62.

"Content is driving the demand for higher capacity flash memory cards in mobile phones," said Jeff Kost, vice president and general manager of the Mobile Consumer Solutions division at SanDisk. "The new 4GB SanDisk microSDHC card will allow handset manufacturers and mobile network operators to plan rich media services for their customers who increasingly see their phone as their camera, video player, gaming system and music player."

SanDisk is now sampling the new 4GB microSDHC card to OEMs such as major phone manufacturers and mobile network operators (MNOs). Engineering samples are now available for evaluation, as mobile phone makers will need to upgrade the firmware in their handsets so that memory slots can support the new card.

SDHC is the new designation for any SD™ or SD-based card that is larger than 2GB and adheres to the new SD 2.00 specification that is required for cards and hosts to support 4GB to 32GB capacities. The specification was developed by the SD Association, an industry standards board, which also defined three speed classes for speed and performance capabilities. These cards adhere to the SD Speed Class 2 Rating specification which defines a minimum sustained transfer speed for SDHC cards.

Retail release of the card is planned for later in 2007. OEM pricing has not been determined yet.

In line with the announcement of the 4GB microSDHC card, SanDisk is offering various capacities of microSD™ cards in a Mobile Memory Kit. Each package contains both miniSD™ and SD adapters, so that consumers can select the appropriate card for their use without being influenced by card size. With SanDisk adapters, microSD and microSDHC cards can be "stepped up" to fit into a variety of other electronics devices that have miniSDHC and SDHC slots.

Apart from handsets, microSDHC cards also can be used in some digital audio players, such as SanDisk's Sansa® c200 and e200 series MP3 players.

For additional information on the SDHC format, please visit SanDisk's website:
• What is SDHC: www.sandisk.com/sdhc/SDHC.pdf
• SDHC product information: www.sandisk.com/sdhc
SanDisk is the original inventor of flash storage cards and is the world's largest supplier of flash data storage card products, using its patented, high-density flash memory and controller technology. SanDisk is headquartered in Milpitas, California and has operations worldwide, with more than half of its sales outside the U.S.
---
 SanDisk's web site/home page address: www.sandisk.com
SanDisk's product and executive images can be downloaded from http://www.sandisk.com/corporate/mediakit/
SanDisk, the SanDisk logo and Sansa are trademarks of SanDisk Corporation, registered in the U.S. and other countries. SD, SDHC, microSDHC, microSD and miniSD are trademarks. Other brand names mentioned herein are for identification purposes only and may be trademarks of their respective holder(s). All trade names are either registered trademarks or trademarks of their respective holders. 
¹ gigabyte (GB) = 1 billion bytes.
² Approximations based on compressed JPEG images on 4 MP camera (pictures); 4 minute songs at 128 kbps MP3 (songs) and 8 hours of Super Fine MPEG 4 video (320 x 240, 1Mb/sec. video). Actual numbers may vary.
³ The 4GB SanDisk microSDHC card is rated Class 2, a guaranteed minimum data-transfer rate of 2MB/sec. This rate is guaranteed based on the conditional access method specified by SD physical specifications.

This press release contains certain forward-looking statements, including expectations for new product introductions, applications, markets, and customers that are based on our current expectations and involve numerous risks and uncertainties that may cause these forward-looking statements to be inaccurate. Risks that may cause these forward-looking statements to be inaccurate include among others: market demand for our products may grow more slowly than our expectations or there may be a slower adoption rate for these products in new markets that we are targeting, and the other risks detailed from time-to-time in our Securities and Exchange Commission filings and reports, including, but not limited to, Form 10-K and our quarterly reports on Form 10-Q. We do not intend to update the information contained in this press release.
MEDIA CONTACT:
Solid Ground
Gijs Roeloffzen
+31 23 533 40 99 sandisk@solidground.nl
SanDisk Corporation
Mike Wong
(408) 801-1240
 mike.wong@sandisk.com