Aug 28, 2007
At Double the Largest Previously Available Capacity, Cruzer Micro USB Flash Drive Also Offers Retractable USB Connector and U3 Smart Technology
MILPITAS, CALIFORNIA, August 28, 2007 - SanDisk® Corporation (NASDAQ:SNDK) today announced an 8 gigabyte (GB)1 model of its popular Cruzer® Micro USB flash drive, double the largest capacity previously available in the Cruzer Micro line.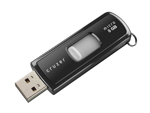 Only two inches long, a half-inch thick and weighing less than half an ounce, the 8GB Cruzer Micro nonetheless can hold a massive personal library - 1,600 ultra-high-resolution digital pictures, 2,000 digital songs or five hours of high-quality home video2.

"Just a few years ago, USB flash drives had such limited capacities that they were only useful for moving a few files from one computer to another," said Ittai Golde, senior director of product marketing for the USB Division of SanDisk. "Now, you don't have to decide what files to put on a Cruzer Micro. You can load the drive with virtually everything you might need when you're away from your primary computer."

Cruzer Micro packs an impressive list of features into a small package:
A sliding USB connector means there's no cap to lose, and the connector is protected from damage when the drive is not in use.  
The slider switch is illuminated by an amber LED light when the drive is active, making it easy to see - when the light goes out - that it's safe to unplug the drive.  
U3™ Smart Technology for running applications directly from the drive, without those applications having to be installed on the computer. U3-compatible software provided free with Cruzer Micro includes the PC phone service Skype™, SanDisk's own CruzerSync™ for synchronizing files between a PC and the drive, the password manager program SignupShield™ Passwords from Protecteer, and a trial version of McAfee anti-virus software.
Pricing and Availability 

Cruzer Micro 8GB is expected to be available worldwide in mid-September with a manufacturer's suggested retail price in the United States of $129.99. Cruzer Micro also continues to be available in four smaller capacities, with U.S. MSRPs generally as follows: 512 MB for $14.99, 1GB for $24.99, 2GB for $39.99 and 4GB for $69.99.

SanDisk is the original inventor of flash storage cards and is the world's largest supplier of flash data storage card products, using its patented, high-density flash memory and controller technology. SanDisk is headquartered in Milpitas, California, and has operations worldwide, with more than half its sales outside the U.S. 
---
11 gigabyte (GB) = 1 billion bytes. 1 megabyte (MB) = 1 million bytes.

2 Approximations based on JPEG images with average file size of 5 megabytes (for pictures); 4 minute songs at 128 kbps MP3 (for songs) and 5 hours of MPEG 4 video (30 frames per second, 640x480, 3Mb/sec. for video). Actual numbers may vary.

SanDisk's web site/home page address: http://www.sandisk.com
SanDisk's product and executive images can be downloaded from http://www.sandisk.com/corporate/mediakit/
SanDisk, the SanDisk logo, Cruzer and CruzerSync are trademarks of SanDisk Corporation, registered in the U.S. and other countries. U3 is a trademark of U3, LLC. Skype and the Skype logo are trademarks of Skype Technologies S.A. SignupShield is a trademark of Protecteer, LLC. Other brand names mentioned herein are for identification purposes only and may be trademarks of their respective holder(s).

This press release contains certain forward-looking statements, including expectations for new product introductions, specifications, applications, markets, pricing, customer acceptance and customers that are based on our current expectations and involve numerous risks and uncertainties that may cause these forward-looking statements to be inaccurate. Risks that may cause these forward-looking statements to be inaccurate include among others: market demand for our products may grow more slowly than our expectations, there may be a slower adoption rate for these products in new markets that we are targeting, our products may not be available at the prices, dates or in the geographies we anticipate, our products may not perform as expected, and the other risks detailed from time-to-time under the caption "Risk Factors" and elsewhere in our Securities and Exchange Commission filings and reports, including, but not limited to, our Form 10-K and our quarterly reports on Form 10-Q. We do not intend to update the information contained in this press release.