Jan 7, 2008
Slim SanDisk Solid-State Drive Offered For New Ultralight Laptop PCs

SanDisk Cruzer Crossfire Gaming USB Drive Now Available in 8GB

New 8GB Capacity For SanDisk Memory Stick PRO Duo Gaming Cards
LAS VEGAS, NEVADA, January 7, 2008 - SanDisk Corporation, as part of its lineup for the 2008 Consumer Electronics Show, has added a new solid-state drive for laptop PCs and capacity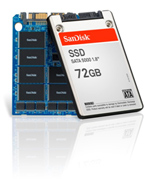 upgrades for two flash memory products oriented to gaming enthusiasts.
SLIMMER SANDISK SSD TARGETS NEW NOTEBOOKS - Joining SanDisk's growing portfolio of solid-state drives (SSDs) for portable computers is a slimmed-down 1.8-inch Serial ATA (SATA II) model that is aimed at a new generation of ultralight notebooks. Designed to be a drop-in replacement for hard disk drives, the new SATA drive is just 5mm thick and weighs 40 grams - about 30 percent less than a same-size hard disk drive. It uses a SATA II interface and an industry standard micro SATA connector, and consumes only .85 watts in read/write mode and .2W when idle. Availability is planned for the second quarter of 2008 in capacities of up to 72 gigabytes (GB). PC manufacturers are expected to launch the new thin and light laptops for the corporate market later this year.
SANDISK CRUZER CROSSFIRE IN 8 GIGABYTES - PC gamers can store their game data, download portable casual games and demonstrations, and save their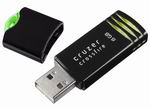 replays with the new 8-gigabyte (GB) SanDisk Cruzer® Crossfire™ USB flash drive. Introduced in 2006, the Cruzer Crossfire line, distinguished by its hard plastic shell and multiple colors, had been offered in capacities of up to 4GB. The new capacity, with its black body and green trim on the cap, is expected to ship to retailers worldwide this quarter, at a suggested retail price of $129.99.
NEW CAPACITY UPGRADE FOR SANDISK MEMORY STICK PRO DUO - Owners of the popular Sony® Playstation® Portable (PSP®) will soon be able to buy SanDisk
Memory Stick PRO Duo™ gaming cards in an 8-gigabyte capacity. This new card, offered in a translucent green, allows users to save game data as well as store and play digital music, videos and still photos. Previously, the highest capacity had been 4 GB. The card is expected to ship this month at a suggested retail price of $149.99.
SanDisk Corporation, the inventor and world's largest supplier of flash storage cards, is a global leader in flash memory - from research, manufacturing and product design to consumer branding and retail distribution. SanDisk's product portfolio includes flash memory cards for mobile phones, digital cameras and camcorders; digital audio/video players; USB flash drives for consumers and the enterprise; embedded memory for mobile devices; and solid state drives for computers. SanDisk (www.sandisk.com/corporate) is a Silicon Valley-based S&P 500 company, with more than half its sales outside the United States.
---
SanDisk's product and executive images can be downloaded from
http://www.sandisk.com/about-sandisk/media-kit.aspx
SanDisk's web site/home page address: http://www.sandisk.com
SanDisk and the SanDisk logo are trademarks of SanDisk Corporation, registered in the United States and other countries. Cruzer Crossfire is a trademark of SanDisk Corporation. Memory Stick is a trademark of Sony Corporation. PSP and PlayStation are registered trademarks or trademarks of Sony Computer Entertainment, Inc. (SCEI). Other brand names mentioned herein are for identification purposes only and may be the trademarks of their respective holder (s).
This press release contains certain forward-looking statements, including expectations for new product introductions, applications, markets, and customers that are based on our current expectations and involve numerous risks and uncertainties that may cause these forward-looking statements to be inaccurate. Risks that may cause these forward-looking statements to be inaccurate include among others: market demand for our products may grow more slowly than our expectations or there may be a slower adoption rate for these products in new markets that we are targeting, these products may not perform as expected, these products may not be available when, in the regions or at the prices expected, and the other risks detailed from time-to-time in our Securities and Exchange Commission filings and reports, including, but not limited to, Form 10-K and our quarterly reports on Form 10-Q. We do not intend to update the information contained in this press release.