Oct 15, 2008
New Plug & Play, Portable Music Player is Designed Especially for slotMusic™ Cards; Popular Artists Have Their Own Personalized MP3 Players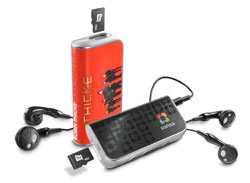 MILPITAS, Calif., (October 15, 2008) -SanDisk Corporation (NASDAQ:SNDK), a leading seller of MP3 players and flash memory cards, today unveiled the Sansa® slotMusic™ Player, the easiest MP3 player for loading and listening to music on the go. The plug & play, portable music player was specially designed for use with the new slotMusic cards available today in the United States. In addition to the Sansa-branded player, SanDisk has created personalized, branded slotMusic players for popular artists such as Robin Thicke and ABBA. Both types of slotMusic Players are shipping to U.S. stores today - including Best Buy and Wal-Mart.
The Sansa slotMusic Player (MSRP $19.99) was made to play slotMusic card albums or a self-loaded microSD™ card full of music. The effortless player doesn't require a PC, Internet or any time spent managing music. Consumers simply choose their slotMusic or music-filled microSD card, pop it into the device and will be enjoying their favorite tunes in seconds.
The unique, artist-branded slotMusic Player is a stylish, all-in-one package, which includes both the slotMusic card and a trendy player bearing their favorite artist's name and image. The branded player comes pre-loaded with an album on a 1GB1slotMusic card. (Additional content on the card may include liner notes, album art and other one-of-a-kind content personally chosen by the artist.) Artist-branded slotMusic players will retail for a MSRP of $34.99.
Announced last month, slotMusic is a new format of high-fidelity, DRM-free MP3 music on a microSD card, which gives consumers the ability to easily listen to-and quickly swap-their favorite songs among a mobile phone, personal computer, and any MP3 player with a microSD slot. slotMusic cards available this month will feature nearly 40 of the biggest names in music from all four major music labels: EMI Music, SONY BMG MUSIC ENTERTAINMENT, Universal Music Group, and Warner Music Group. Artists on slotMusic cards include Robin Thicke, Katy Perry and Coldplay. (Media note: see associated press release.)
"With no need for computers or cords, the Sansa slotMusic Player gives consumers more time to play, and less time to worry about managing or downloading their music," said Daniel Schreiber, senior vice president and general manager for SanDisk. "SanDisk is all about building products that are easy for consumers to enjoy. Just insert your favorite artist's slotMusic card into the Sansa slotMusic player and press play."
Perfect for those on the go, the small device can easily be tucked in a pocket or purse, with a weight of a little over two ounces and dimensions of 2.75" W x 1.4375" H x 1.4375" D.

SanDisk has also developed a special line of Sansa slotMusic Player accessories, including a Sansa Card Wallet, an armband, and additional slotMusic player "shells" for customizing a player to one's own tastes.

In addition to slotMusic cards, this convenient MP3 player can play songs from any microSD card with music encoded as MP3 and WMA (DRM-free only) files. The industry leader in flash memory cards, SanDisk is currently selling microSD cards in a range of capacity with up to an astounding 16GB of capacity. 16GB can hold up to 4,000 MP3 songs2.

The Sansa-branded players ship with a customizable black shell, earphones and battery. The new Sansa slotMusic Player, both Sansa-branded (without cards) and artist-branded (including cards), is expected to be available from retailers in Europe and other regions of the world in 2009.

The Sansa slotMusic Player brings yet another dimension to SanDisk's Sansa audio/video product family, which includes the popular Sansa® Fuze™ and video-centric Sansa® View, both of which accept with slotMusic cards. The Sansa line offers consumers unprecedented choice for enjoying their favorite media on the go through affordable, easy to use, fun & fashionable music players.
For more information visit http://www.sansa.com.
About SanDisk

SanDisk Corporation, the inventor and world's largest supplier of flash storage cards, is a global leader in flash memory - from research, manufacturing and product design to consumer branding and retail distribution. SanDisk's product portfolio includes flash memory cards for mobile phones, digital cameras and camcorders; digital audio/video players; USB flash drives for consumers and the enterprise; embedded memory for mobile devices; and solid state drives for computers. SanDisk (www.sandisk.com/corporate) is a Silicon Valley-based S&P 500 company, with more than half its sales outside the United States.
---
1 1 megabyte (MB) = 1 million bytes; 1 gigabyte (GB) = 1 billion bytes.
2 Approximation based on 4 minute songs at 128 kbps MP3.

SanDisk's product and executive images can be downloaded from http://www.sandisk.com/corporate/media.asp
SanDisk's Sansa web site/home page address:www.sansa.com
slotMusic.org's online: www.slotmusic.org
SanDisk, the SanDisk logo and Sansa are trademarks of SanDisk Corporation, registered in the United States and other countries. Sansa Fuze is a trademark of SanDisk Corporation. slotMusic is a trademark of SLOTmedia Group LLC. microSD and SDHC are trademarks. Other brand names mentioned herein are for identification purposes only and may be the trademarks of their respective holder (s).

This press release contains certain forward-looking statements, including expectations for new product introductions, applications, markets and customers that are based on our current expectations and involve numerous risks and uncertainties that may cause these forward-looking statements to be inaccurate. Risks that may cause these forward-looking statements to be inaccurate include among others: market demand for our products may grow more slowly than our expectations or there may be a slower adoption rate for these products in new markets that we are targeting, these products may not perform as expected, these products may not be available when expected or at the prices expected, and the other risks detailed from time-to-time in our Securities and Exchange Commission filings and reports, including, but not limited to, our most recent annual report on Form 10-K and our subsequent quarterly reports on Form 10-Q. We do not intend to update the information contained in this press release.