Nov 11, 2008
The Veoh™ Web Player for SanDisk Enables Portable and Secure Video Consumption on Any PC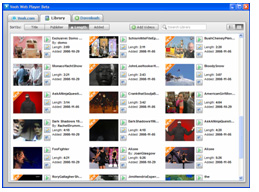 MILPITAS, CALIFORNIA, November 12, 2008 - SanDisk Corporation (NASDAQ:SNDK) and Veoh Networks Inc. (www.veoh.com) today announced the availability of the Veoh™ Web Player for SanDisk, a portable video player that is initially available only on SanDisk® Cruzer® USB flash drives. The Veoh Web Player for SanDisk, allows on-the-go viewers to browse, search, and enjoy millions of videos available through Veoh.com on any computer* at any time - including TV shows, movies, web series and popular independently-produced content from all over the Web.

The Veoh Web Player combined with SanDisk Cruzer USB flash drives provides users with a broad selection of video content on Veoh.com and the power of a peer-to-peer client in a single portable and password-protected application. With the Veoh Web Player's Library and Import features, users can easily manage their personal video collection, both online and offline. When permitted by the publisher, users can schedule downloads of videos to their library to watch later or at another location. U3™ Smart technology, which was developed by SanDisk, allows applications to run from a SanDisk Cruzer USB flash drive, without having to be installed on a computer.

The Veoh Web Player and SanDisk Cruzer USB flash drive offer enhanced security features as well. Password protection on SanDisk Cruzer USB flash drives prevent unauthorized access to personal video files in case the drive is lost or stolen. And since U3 Smart technology doesn't require a separate video application to be installed, users can enjoy video content without leaving any traces on the host PC.

"The Veoh Web Player is a perfect companion for SanDisk's Cruzer USB flash drives because our customers often want to watch videos when they're away from home and it often isn't possible to install software on the computer itself," said Yaniv Lavi, Director of Product Marketing for the consumer retail business unit at SanDisk. "Our SanDisk Cruzer USB Drives are ideal for watching and downloading videos because they come in capacities of up to 16GB1, are technologically capable of streaming high definition content and come equipped with security features that help protect user privacy."

"SanDisk's reputation for innovation in flash storage devices and portable applications makes them the ideal distribution partner to make Veoh's extensive Internet video services more portable for our viewers," said Joshua Metzger, Senior Vice President of Corporate Development for Veoh Networks. "SanDisk Cruzer USB flash drives are ideal for video and Veoh.com users. This partnership puts Veoh in their pocket - so videos are ready to enjoy whenever and wherever they plug in."

Users who previously purchased SanDisk Cruzer® USB flash drives can download the Veoh Web Player onto their drives for free by visiting www.sandisk.com/veoh or by accessing the SanDisk Cruzer Program Wizard of the U3 Launch pad. More information on U3 is available at www.sandisk.com/U3.
About SanDisk

SanDisk Corporation, the inventor and world's largest supplier of flash storage cards, is a global leader in flash memory - from research, manufacturing and product design to consumer branding and retail distribution. SanDisk's product portfolio includes flash memory cards for mobile phones, digital cameras and camcorders; digital audio/video players; USB flash drives for consumers and the enterprise; embedded memory for mobile devices; and solid state drives for computers. SanDisk (www.sandisk.com/corporate) is a Silicon Valley-based S&P 500 company, with more than half its sales outside the United States.
About Veoh Networks
Veoh Networks is an innovative Internet Television company that delivers broadcast-quality video programming via the Internet.

Veoh has more than 100,000 content publishers - from CBS, Viacom's MTV Networks, ABC, Warner Bros. Television Group, ESPN and Lions Gate to thousands of independent filmmakers and content producers - and currently attracts over 28 million unique users per month worldwide. For advertisers, Veoh offers compelling ways of engaging with a targeted audience and measuring performance of their ad buys.

Veoh Networks is a privately held company that is backed by leading technology and media investors, including Shelter Capital Partners, Spark Capital, Michael Eisner's Tornante Company, Goldman Sachs, Time Warner Inc., Intel Capital, Adobe Systems Incorporated, Gordon Crawford, Tom Freston and Jonathan Dolgen. The company's principal offices are in Los Angeles and San Diego, California. For more information about Veoh or to inquire about advertising opportunities, visit: http://www.veoh.com.
---
* U3™ functionality is not supported under Linux or MAC OS® (any version) but device is MSC.
1 1 gigabyte (GB) = 1 billion bytes. Some capacity is not available for data storage.

SanDisk's web site/home page address: http://www.sandisk.com
SanDisk's product and executive images can be downloaded from http://www.sandisk.com/corporate/mediakit/

SanDisk, the SanDisk logo and Cruzer are trademarks of SanDisk Corporation, registered in the U.S. and other countries. U3 is a trademark of U3, LLC. Other brand names mentioned herein are for identification purposes only and may be trademarks of their respective holder(s).

This press release contains certain forward-looking statements, including expectations for new product introductions, specifications, applications, markets, customer acceptance and customers that are based on our current expectations and involve numerous risks and uncertainties that may cause these forward-looking statements to be inaccurate. Risks that may cause these forward-looking statements to be inaccurate include among others: market demand for our products may grow more slowly than our expectations, there may be a slower adoption rate for these products in new markets that we are targeting, our products may not perform as expected, and the other risks detailed from time-to-time under the caption "Risk Factors" and elsewhere in our Securities and Exchange Commission filings and reports, including, but not limited to, our annual report on Form 10-K and our quarterly reports on Form 10-Q. We do not intend to update the information contained in this press release.