Jan 6, 2009
Drives Allow Consumers to Easily Store Critical Files with the Touch of a Button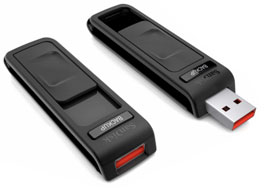 CES 2009, South Hall, Booth # 30659, LAS VEGAS, January 6, 2009 - SanDisk Corporation (NASDAQ:SNDK) today introduced an innovative new family of SanDisk® USB flash drives, including the world's first backup USB flash drive with simple backup software activation at the touch of a button. The SanDisk Ultra® Backup USB portable flash drive is the first offering of the company's new SanDisk Ultra USB product line. With capacities up to 64 gigabytes1 (GB), the SanDisk Ultra Backup USB flash drive is designed to protect computer users' photos, music, videos, personal and business documents, and other types of digital files, with the simple touch of a button. No software installation is needed. The drive protects onboard digital content with a dual layer of security, including password-protected access control and ultra-secure AES hardware-based encryption.2
The new SanDisk USB product family includes three different product lines:
The popular SanDisk® Cruzer® USB flash drive which provides simple, reliable and portable storage, plus access to a variety of U3™ applications.
The SanDisk Ultra Backup USB flash drive offers the added protection and peace of mind that consumers expect from the minds behind flash memory.
The SanDisk Extreme® Contour™ provides increased security protection and higher performance levels, enclosed in a sleek, elegant industrial design.
SanDisk Ultra Backup USB Flash Drive: Back up critical files with the simple touch of a button

With no cables required, or any complicated software to install, the new SanDisk Ultra Backup USB flash drive is a complete backup solution that provides an incredibly easy way to protect digital files. It uses patent-pending backup technology with capacities up to 64GB, large enough to back up average consumer requirements, as well as critical small business files and documents. In addition to one's digital personal life, these products protect critical work files with a dual layer of both password protection and AES hardware encryption. This ensures content stays private and secure (via data scrambling at the flash controller level) when the drives are either physically removed for portability, or stored away for safe keeping.
The explosion in global sales of laptops and mobile devices has exponentially increased the vulnerability of digital files. Computer users can quickly lose precious photos, music, videos and professional work files due to drops, spills, theft, viruses and other incidents. PC Magazine (www.pcmag.com) conducted a research study on annualized notebook failure rates published in July 2008 which found that more than 24 percent of business notebooks need repair each year due to failures.
"Like flossing our teeth or balancing our checkbooks, when it comes to backing up our digital files, even though people know they should do it, they simply don't - and that behavior is putting many consumers' precious digital content at serious risk," said Kent Perry, director of USB product marketing, SanDisk. "We're delivering incredibly simple backup to protect people's most valuable digital content at Main Street prices. With our wide array of capacities and price points, consumers can even choose to store particular file types like digital music or photos on different USB flash drives."
A 2008 Consumer Electronics Association market research report, titled "Amassing Digital Fortunes: A Digital Storage Study," found the average U.S. online adult has nearly 1,800 files stored, and plans to store another 1,060 digital files during the next year. This amounts to approximately 30GB3 of content that needs to be backed up. The study found that digital photos are considered to be the most valuable because of their irreplaceable natures.
SanDisk Cruzer USB Flash Drive: Reliable storage with a new contemporary look


The SanDisk Cruzer has been redesigned with a contemporary look as part of the new SanDisk USB family of flash drives. These portable, reliable drives are designed to share consumers' digital world with ease, with up to 32GB of storage for simple sharing of photos, videos and other files.
The entire new SanDisk USB family introduces an iconic new design language developed by global innovation firm frog design. Signature design elements include juxtaposed L shapes that create a dynamic, yet balanced, composition, a bright red USB connector and a simple cap-less design, which exposes the USB connector for use via a dynamic sliding mechanism. When plugged in to a host device, a glowing, amber-colored LED light alerts users that the drives are ready for reading or writing data.
The new SanDisk USB family will continue to have U3™ Smart technology, developed by SanDisk, which allows applications to run from a SanDisk USB flash drive without having to be installed on a computer.4 PC-users can download a variety of both free and paid software, games and content by visiting www.u3.com, or by accessing the SanDisk USB Program Wizard in the U3 Launchpad. Among other bonus applications available for download is the Veoh™ Web Player for SanDisk, which enables users to watch, download and share Internet video content.
The various product lines of SanDisk USB flash drives will continue to include the sleek and high-performance SanDisk Extreme Contour as its high-end storage solution for maximum security and speed. This showpiece of innovative design sports super-fast data transfer speeds at 25MB/second read and 18MB/second write.5 It also includes superior security with 256-bit AES USB hardware encryption and password-protected access control.
Pricing and Availability

The new SanDisk USB flash drives will first become available in April 2009.6 The SanDisk Cruzer drive will be available in capacities of 4GB-32GB with MSRPs ranging between $24.99 and $99.99. The SanDisk Ultra Backup drive will be available in capacities of 8GB-64GB with MSRPs ranging between $39.99 and $199.99. The SanDisk Extreme Contour USB flash drive is available in major retailers today.

The SanDisk Cruzer drive includes a two-year limited warranty,7 the SanDisk Ultra Backup drive includes a five-year limited warranty, 8 and the SanDisk Extreme Contour includes a lifetime limited warranty.9
For more information, please visit www.sandisk.com/USB.  
About SanDisk
SanDisk Corporation, the inventor and world's largest supplier of flash storage cards, is a global leader in flash memory - from research, manufacturing and product design to consumer branding and retail distribution. SanDisk's product portfolio includes flash memory cards for mobile phones, digital cameras and camcorders; digital audio/video players; USB flash drives for consumers and the enterprise; embedded memory for mobile devices; and solid state drives for computers. SanDisk (www.sandisk.com/corporate) is a Silicon Valley-based S&P 500 company, with more than half its sales outside the United States.
---
1 1 gigabyte (GB) = 1 billion bytes. Some capacity is not available for data storage.

2 The Advanced Encryption Standard (AES) is an implementation of the Rijndael block cipher encryption algorithm. The algorithm accepts a block of input data, processes it using a supplied encryption key, and outputs a block of encrypted data. (Decryption works in the reverse, using the same key.) Longer key lengths make the encryption more secure, and various cipher modes can modify the operation of the basic algorithm. The SanDisk Ultra line provides 128-bit AES USB hardware encryption and the SanDisk Extreme line provides 256-bit AES USB hardware encryption.

3 This 30GB capacity is based on calculating the sum of the number of particular types of digital files by an average file size determined by SanDisk. The digital files used in this calculation include personal photos, music, videos, personal and business documents - but the average capacity figure needed for backup does not include commercial TV, videos or movies that could be easily replaced by re-purchasing them.

4 U3 functionality is not supported under Linux or Mac OS (any version), but the device is Mass Storage Class.

5 Based on internal testing; performance may be lower depending on host device. 1 megabyte (MB) = 1 million bytes.

6 SanDisk Cruzer (32GB) and SanDisk Ultra Backup (64GB) will be available outside of the U.S. in June 2009.

7 Two-year warranty in regions not recognizing "limited."

8Five-year warranty in regions not recognizing "limited."

9 Thirty-year warranty in Germany and other regions not recognizing "lifetime limited."

SanDisk's web site/home page address: http://www.sandisk.com

SanDisk's product and executive images can be downloaded from http://www.sandisk.com/corporate/mediakit SanDisk, the SanDisk logo, Cruzer, SanDisk Extreme and SanDisk Ultra are trademarks of SanDisk Corporation, registered in the U.S. and other countries. Contour is a trademark of SanDisk Corporation. U3 is a trademark of U3, LLC. Other brand names mentioned herein are for identification purposes only and may be trademarks of their respective holder(s).

This press release contains certain forward-looking statements, including expectations for new product introductions, specifications, applications, markets, customer acceptance and customers that are based on our current expectations and involve numerous risks and uncertainties that may cause these forward-looking statements to be inaccurate. Risks that may cause these forward-looking statements to be inaccurate include among others: market demand for our products may grow more slowly than our expectations, our products may not be available at the prices, dates or in the capacities we anticipate, our products may not perform as expected, there may be a slower adoption rate for these products in new markets that we are targeting, and the other risks detailed from time-to-time under the caption "Risk Factors" and elsewhere in our Securities and Exchange Commission filings and reports, including, but not limited to, our annual report on Form 10-K and our quarterly reports on Form 10-Q. We do not intend to update the information contained in this press release.