May 5, 2010
Pre-configured USB Drive Delivers Best Experience On Xbox 360 Console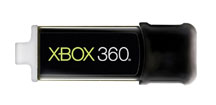 Milpitas, Calif., May 5, 2010 - SanDisk Corporation (NASDAQ: SNDK), the global leader in flash memory cards, today announced that it is shipping the Xbox 360® USB Flash Drive by SanDisk for the Microsoft Xbox 360 gaming and entertainment console. The new drive makes it easier than ever for gamers to take their gamertags, saved game progress, map packs, Arcade game downloads and bonus content with them for fast and convenient access on another Xbox 360 console† .
The Xbox 360 USB Flash Drive by SanDisk delivers the best experience on the Xbox 360 console. Pre-configured for seamless plug and play action, the drive eliminates the need to format storage or download an initial software update for an Xbox 360 console. For gamers looking to get in on the fun or for those with existing accounts who want to extend their play, a one-month Xbox LIVE Gold membership is included with purchase of the drive†† .
"Xbox LIVE contains a world of content for gamers to explore and download, including full-length games, movies and music," said Shuki Nir, Senior Vice President and General Manager, Retail, SanDisk. "The Xbox 360 USB Flash Drive by SanDisk is specifically engineered to deliver a great user experience and maximum compatibility with the console, offering gamers greater freedom and flexibility in how they store, manage and enjoy their favorite files."
"SanDisk has a proven track record of creating high-quality storage solutions," said Ilan Spillinger, Vice President, Xbox Hardware and Technology, Microsoft. "The Xbox 360 USB Flash Drive by SanDisk provides a great solution for gamers who need portable storage for their Xbox 360 content. It's plug and play simple."
Pricing and Availability
The Xbox 360 USB Flash Drive by SanDisk is available now on SanDisk.com and at major retailers. The drive is available in 8 gigabyte (GB)1 and 16GB capacities, carrying suggested retail prices of $34.99 and $69.99, respectively.
About SanDisk
SanDisk Corporation is the global leader in flash memory cards, from research, manufacturing and product design to consumer branding and retail distribution. SanDisk's product portfolio includes flash memory cards for mobile phones, digital cameras and camcorders; digital audio/video players; USB flash drives for consumers and the enterprise; embedded memory for mobile devices; and solid state drives for computers. SanDisk is a Silicon Valley-based S&P 500 company, with more than half its sales outside the United States.
---
11 gigabyte (GB) = 1 billion bytes.
† Includes Xbox 360 system software, see www.xbox.com for more details.
†† Terms and Conditions apply, see www.xbox.com/live for more details.
SanDisk's product and executive images can be downloaded from:
www.sandisk.com/corporate/media.asp
SanDisk's web site/home page address: www.sandisk.com

©2010 SanDisk Corporation. All rights reserved. SanDisk and the SanDisk logo are trademarks of SanDisk Corporation, registered in the United States and other countries. Xbox, Xbox 360, Xbox LIVE and the Xbox logos are trademarks of the Microsoft group of companies. This product is manufactured under license from Microsoft Corporation. Other brand names mentioned herein are for identification purposes only and may be the trademarks of their respective holder (s).
This press release contains certain forward-looking statements, including expectations for new product introductions, specifications, applications, markets, and customers that are based on our current expectations and involve numerous risks and uncertainties that may cause these forward-looking statements to be inaccurate. Risks that may cause these forward-looking statements to be inaccurate include among others: market demand for our products may grow more slowly than our expectations or there may be a slower adoption rate for these products in new markets that we are targeting, our products may not perform as expected or may not be available at the prices, in the regions, in the capacities or at the time expected and the other risks detailed from time-to-time in our Securities and Exchange Commission filings and reports, including, but not limited to, our most recent annual report on Form 10-K. We do not intend to update the information contained in this press release.