Jan 6, 2014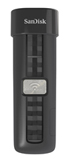 LAS VEGAS, January 6, 2014 – SanDisk Corporation (NASDAQ: SNDK), a global leader in flash storage solutions, today announced the 64GB1 SanDisk Connect™ Wireless Flash Drive in advance of the 2014 Consumer Electronics Show. The drive extends SanDisk's popular and award-winning line of wireless flash memory storage products, offering users even more wireless memory expansion for their mobile devices. In addition, recently released software updates enhance the performance and functionality of both the SanDisk Connect Wireless Flash Drive and Wireless Media Drive.
The SanDisk Connect line of products is designed to alleviate storage capacity limitations that consumers experience with their mobile devices. Data from the SanDisk Memory Zone memory management app for Android™ devices, which recently surpassed 1.5 million downloads, indicates 44 percent of users have less than half of their mobile device's internal storage capacity free, and nearly one quarter of users are at more than 80 percent utilization2. The data also shows that when memory utilization reaches 80 to 90 percent, users proactively make space available by deleting or removing content.
"We are addressing a common problem of consumers running out of memory on mobile devices, and are extending our Connect product line with a 64GB Wireless Flash Drive for access to even more videos, photos, music, and documents on-the-go," said Dinesh Bahal, vice president, product marketing, SanDisk. "With the SanDisk Connect products, consumers can expand the memory on their phones and tablets, stream movies, and share photos and documents with colleagues, friends and family with ease and style."
The SanDisk Connect product line enables consumers to wirelessly stream3 and store content on-the-go without Internet access. In addition to the release of the 64GB SanDisk Connect Wireless Flash Drive, SanDisk has been continuously updating the software to improve performance and accessibility of the drive while keeping a cellular data connection4. For the Wireless Media Drive, updates also include a web app that enables wireless access from PCs and Mac computers, as well as Windows® 8 based tablets, and the ability to play back movies purchased on iTunes.
Pricing and Availability
The 64GB SanDisk Connect Wireless Flash Drive is available at an MSRP of $99.99 in the U.S. on www.sandisk.com, Amazon.com and B&H. It will also be available in select countries in Europe in the coming weeks.
About SanDisk
SanDisk Corporation (NASDAQ: SNDK), a Fortune 500 and S&P 500 company, is a global leader in flash storage solutions. For more than 25 years, SanDisk has expanded the possibilities of storage, providing trusted and innovative products that have transformed the electronics industry. Today, SanDisk's quality, state-of-the-art solutions are at the heart of many of the world's largest data centers, and embedded in advanced smart phones, tablets and PCs. SanDisk's consumer products are available at hundreds of thousands of retail stores worldwide. For more information, visit www.sandisk.com.
---
11 GB=1,000,000,000 bytes. Actual user storage less.
2 SanDisk Memory Zone cumulative app user data collected on December 4, 2013.
3 Some DRM protected content cannot be streamed. Check with the content provider for playback restrictions.
4 These updates to the Wireless Flash Drive software are available for the 64GB drive, and will be available for the other capacities in the coming weeks. Cellular data co-existence is only available on iOS version 7.
© 2014 SanDisk Corporation. All rights reserved. SanDisk is a trademark of SanDisk Corporation, registered in the United States and other countries. Android is a trademark of Google Inc. iTunes is a trademark of Apple Inc. iTunes is for legal or right holder - authorized copying only. Don't steal music.Windows is either a registered trademark or trademark of Microsoft Corporation in the United States and/or other countries.